Our Takeaways from Genesys Sales Kickoff 2020: Cloud, Platform, AI – And More AI!
Is there a better way to start the New Year than with friends? The potential of AI and CX in contact centers, but also across the enterprise was the story we shared at this year's big event bringing together thousands of Genesys executives, sales and marketing experts, channel partners and technology ecosystem contributors including CustomerView.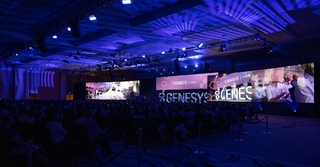 Here are a few highlights from last week's gathering including our take on Genesys' emphasis on cloud, simplified branding, and enthusiasm for the potential of AI. 
Genesys unveiled their new branding, which dramatically simplifies how they present their offering, with Experience as a Service as a new tagline. We launched Customer Experience as a Service (CXaaS) in February of lats year (you can read our CEO Joe Galvin's blog here) and are excited about the strategic alignment.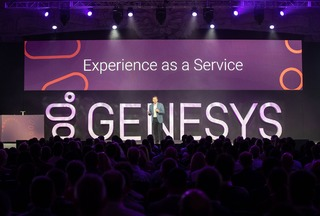 Genesys is succeeding and growing by staying focused on customers and investing even more into cloud, big data analytics, and AI which is why our tech ecosystem partnership has been so exciting for the last few years and is poised to grow even more in 2020.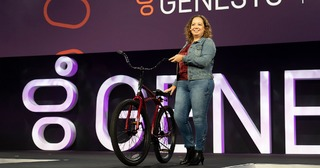 We demostrated CustomerView's cloud-based, AI for Enterprise and AI for CX platform to hundreds of people, showing how our insight solutions are pre-integrated with Genesys and easy to "bolt on" to existing Genesys platforms in the filed, and to "embed into" Genesys' future greenfield deployments.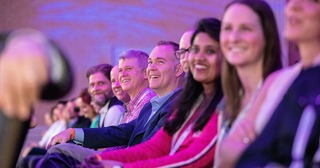 You can enjoy our new online, interactive, self-guided demo here – and take a tour of what we shared last week in Orlando. This experience was created in partnership with a Silicon Valley company still in stealth mode, but launching later this month.

While there were many flavors of AI being demonstrated and discussed at the event (including an application applied to hold music – see a summary of that below), what drew people to CustomerView is not only our leadership in the space and proven scalable implementations, but the use cases – the features – our platform supports. You can read about a few of these on our website, but these represent only a fraction of the applications we've designed hand-in-hand with our clients. 
About that hold music…here's what a recent Genesys survey revealed and you might find some of the findings surprising! 
Genesys commissioned surveys in 13 countries to examine consumer opinions on the increasingly automated customer experience: Australia, China, Germany, India, Indonesia, Japan, Malaysia, New Zealand, Singapore, South Korea, Thailand, the U.K. and the U.S. Survey participants were asked to choose their favorite hold music from among 10 music types.

Within the U.S., the survey pool of 800 adults had a 50/50 gender split covering six age ranges in four geographic regions (Northeast, South, Midwest, West). Here are the musical choices that make Americans whistle a happy tune:

The three most popular: Classical (20%), Country (18%), and Hip-hop (16%).

The three least popular: Buddhist Chants (3%), Folk/Traditional (2%), and Salsa/Merengue (1%).

Other results: 20th Century Rock/Pop (10%), 21st Century Rock/Pop (8%), Jazz (8%), and … the sound of Silence (15%).

Music, the shorthand of emotion

In spite of the wide variety of communication channels now available for contacting an organization, 63% of U.S. survey respondents still say the phone is best for getting the answers they need. In fact, 34% are willing to wait on hold for up to 15 minutes, and another 22% say they'll wait "as long as I need to."

But a drawback to telephone support is that 27% of U.S. survey respondents find "listening to annoying music or repeated messages while on hold" as one of the top three most irritating aspects of customer service.

How can organizations make the waiting experience for customer support more enjoyable? An easy fix can be found in the well-documented effect of background music on the mood and activities of shoppers.

"Artificial intelligence is making it increasingly possible to personalize the customer experience in a multitude of ways," said Janelle Dieken, senior vice president of product marketing at Genesys. "No one really wants to contact customer support, so companies should find opportunities to make experiences better. One way to do this is through personalization – and giving customers their choice of hold music may be an easy place to start."

A little bit country, a little bit rock 'n roll!

Thank you again, #teamgenesys for allowing us to be part of your annual sales kickoff again this year – let's make 2020 even greater than 2019 together!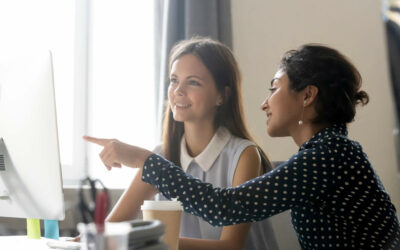 Is it possible to develop a good agent into a great one? The answer is yes – but this doesn't have to happen by itself. Contact centers can accelerate the process of improving the outcomes of every conversation when they leverage advanced AI to automatically gather, analyze and provide insights and tips to agents and their coaches in a continual manner.
read more