Great Experiences Start With Great Agents
One of the greatest challenges we face in the CX industry is agent turnover. We are all in on this post by Genesys on the importance of thinking in parallel about CX and what we're calling AX – the Agent Experience.
It's hard working with the public, particularly given growing expectations and changing paradigms as we continue to navigate through the "changing channels" consumer behaviors are driving. Customers have zero patience for having to repeat information, and for all the worries regarding privacy, the data shows that people are willing to give up information in exchange for a more convenient experience and for "special treatment" in a more personalized world.
It's a recipe for disaster to not give agents the information and tools they need to be able to serve customers efficiently – with the right training and customer information. They will only disappoint customers, risk being scolded by customers (and managers), and will become dispirited and even disparaging when faced with an onslaught of complaints about a company, product or service.
At the same time, it is not feasible to attempt smart, friendly service without the right technology, and in 2020 and beyond, that technology must include AI.
AI is no longer a nice to have – it is a must have, an imperative in order to automate the capture and management of preferences, while also bring sensing to conversations, and guidance to agents and their managers, particularly during events which trigger high volumes.
Here's an example – a competitor comes out with a new advertising campaign, luring customers to switch from one energy provider to another. You're the executive manager of a contact center BPO, and on the way into the office, you hear the advertisement and know – it's going to be a difficult day.
The competitor is offering to buy out any contracts, to eliminate all switching costs, to provide a free mobile app for tracking and managing energy consumption, and to throw in a years' supply of low-energy use light bulbs.
Even you will consider switching given that offer!
You pull into the parking lot, and your iPhone is going off as volumes are skyrocketing, with customers calling in to ask to switch their service unless a competitive solution is offered up.
You scramble, but without the right tools in place – to immediately coordinate with sales and marketing, to come up with a script, to come up with the offers, to train agents and assist them in managing the fray – this could turn out to be a very bad day.
Alternatively, with AI in place, there is immediate information being gathered and analyzed in near-real-time. Every conversation is recorded and transcribed, then analyzed based on key words like the competitor's name, the word "switch" and more. While you are absorbing the details of the offer, you're also understanding the behaviors and patterns, and have accurate data you and the entire sales and marketing and pricing team can review, so you adjust calmly.
You coach and broadcast tips, offer supportive information to agents, and you learn – by the end of the day – or even in the middle of the day – which counter-offers are working best, and which agents are having FUN keeping customers, rather than feeling overwhelmed and stressed out.
With AI-based applications you set up a fun contest, add gamification into the mix, and reward great agent behavior, and as a team with great tools that make coaching across hundreds or thousands of agents possible, you celebrate responding in a collective manner and winning.
While hiring the RIGHT agents is clearly important, even the most qualified, intuitive, smart and friendly agents will struggle without support. In 2020, it is in fact possible to respond quickly, efficiently, and positively to even the most challenging situations.
AI also helps on every "regular" day, and the data collected and analyzed over time generates extremely valuable business intelligence – straight from customers.
We're excited to be a the Genesys Sales Kick Off next week in Florida, as supporters of so many great Genesys events. Adding AI into all Genesys platforms is straightforward; the data Genesys systems capture can be sent to the CustomerView cloud and once that is flowing, the skies the limit when it comes to creative use cases.
Happy agents, happy CX!
Feel free to reach out to me directly at joeg@customeroview.net or tweet us to meet us @onecustomerview as we all get off to a great start this new year, and new decade!
Joe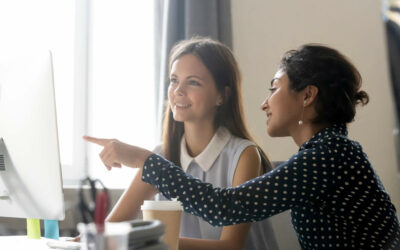 Is it possible to develop a good agent into a great one? The answer is yes – but this doesn't have to happen by itself. Contact centers can accelerate the process of improving the outcomes of every conversation when they leverage advanced AI to automatically gather, analyze and provide insights and tips to agents and their coaches in a continual manner.
read more