How CX Is Changing to Improve Home Insurance Companies' Competitiveness and Profitability
With smarter, more connected homes and cars, insurance companies are uncovering new opportunities to serve customers better and operate more efficiency; at the same time, they are facing competition from start-ups who are establishing new policies based on Internet of Things technologies.
Startup SmartInsure, for example, offers a full package for smart home and insurance by selling smart products like smart water management and security, then installing and providing a home insurance package with low monthly premiums designed for homeowners who want high-quality, lower-cost insurance that also comes with the latest technology and enhanced by great customer experiences.
A report from Parks Associates found that "nearly 40% of broadband households in the United States with an insurance policy would switch providers in order to obtain smart home products as part of a new insurance service."
That is an astounding number and traditional insurance companies are paying attention.
Our AI-based CXaaS solution gives insurers the insights to quote, contract, and if needed continuously improve their claims processing. We leverage all the policy-holder's touchpoints, including, as available smart products for the home, car or other.
Here are seven ways (out of potentially hundreds of ways in the future) homeowners insurance companies can benefit from fusing insurance, back office, and connected systems in smart homes (and buildings, when it comes to business insurance).
Fire Prevention: with smoke detectors that do more than alert people inside the home that there may be a fire risk, insurers can reduce the cost of premiums and the number of incidents with sensors providing operational feedback or even a connection to the local fire department.
Gas Leakage: sensors can also provide additional monitoring support, alerting homeowners and first responders as needed, or at least periodically testing sensor status.
Carbon Monoxide Detection: While typically not part of home insurance offerings, it is possible to validate sensor health to ensure the safety of policyholders.
Physical Security: Home insurance companies happily provide premium discounts when homeowners present a certificate from their provider, usually called "Central Burglary and Central Fire Protection." They can provide proactive recertification, sensor health, and more to minimize claims while maintaining continuous service.
Water Leakage Detection and Prevention: To avoid the expense of cleanup, mold remediation and repairs, as well as irate owners and tenants, property management firms now consider this monitoring technology, including alerts that can be programmed to reach multiple people, a must-have versus nice-to-have.
Water Heater monitoring: Using a mobile application, service providers can alert owners if the tank is running low, the water temperature is cold, and notify a technician. Like other critical services, sensors can be employed to measure system health and age.
HVAC Systems: while home insurers don't directly benefit from energy savings applications through smart environment controls, residents living in smart homes (and businesses working in smart buildings) are saving additional money and living more comfortably. Providers can assist through sensors, condition alerts, and other means to ensure proper functioning and maintenance.
Insurance is the deft task of balancing risk and customer support; the more data, the more effectively insurers can cover needs, and respond to claims. We not only see a focus on customer service, but active involvement in rollout out support systems. Soon enough, this could help policyholders mitigate their risk directly – for example, a notification on a smartphone about a water sensor can only go so far to prevent damage; giving consumers the ability to turn off water locally through their app would be compelling.
When paired together, when monitoring and customer service technologies are paired with one another, protection can be more complete, and the customer experience will be exponentially better (faster and friendlier service), all while lowering the cost to serve.
It's happening now. Liberty Mutual, for instance, has invested in smart home startups like August Smart Lock, and Nationwide announced in 2017 a $100 million investment in "insurtech".
Innovators are thinking more comprehensively about engaging with consumer-facing technology and how home tech can be used not only in mitigation, but also in prevention, remediation, claims and all related services.
The longer term benefits?
Data, data and more data for insurance companies – essential to coverage, support, claims and predictive accuracy. Business intelligence, fusing information from sensor-based systems and contact center interactions, appears to be growing rapidly. AI will be essential across many insurance solutions. Please contact me if you'd like to explore more!
Brad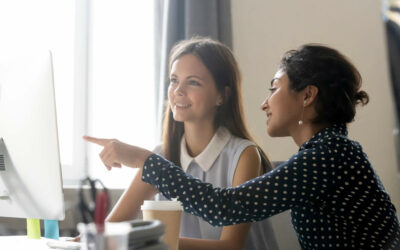 Is it possible to develop a good agent into a great one? The answer is yes – but this doesn't have to happen by itself. Contact centers can accelerate the process of improving the outcomes of every conversation when they leverage advanced AI to automatically gather, analyze and provide insights and tips to agents and their coaches in a continual manner.
read more