Let's Be Perfectly Human About Serving Customers, and Perfectly Data Driven to Create Winning Outcomes
Imagine you are the head of contact center operations for a mobile communications services company, and responsible for the performance of hundreds of agents across all queues, from troubleshooting to billing, from marketing to regulatory compliance. Your company is competing in a price and service driven market, and part of your differentiation is offering an outstanding CX 24/7/365.
Your subscriber base is growing, the variety of mobile devices is expanding, you've successfully transitioned to a new billing strategy with more attractive contracts for some subscribers, and no contract for others (for example when they opt for pre-paid calling and messaging), while also adding bundles that include monthly payments for the devices your subscribers buy.
The variety of options for your consumer and business subscribers seems to evolve on a monthly or even weekly basis, even as your competitors attempt to lure business away with lower prices, promises of better services, and other special – and often confusing – deals in this hyper-competitive market.
This is no longer an environment where you can simply "sample" for quality on a random or occasional basis.
Keeping your business on track with conversational analytics by seeing the whole field not simply a sampling; it is recording, capturing, transcribing, analyzing and creating notifications and insights in near-real time, and creating a basis for fully understanding the performance of each agent and every offering based on big data and information.
Understanding every conversation in order to drive better business results was not truly possible until now, and that is epic.
How Your Job, Team & Results Just Got a Lot Better
With the CustomerView platform in place, here's what your new day at work looks like.
First, you log into your CustomerView secure portal and view all conversations across all channels (voice, text, chat, email, social and embedded), confirm your parameters, and choose your data visualization view.
You click on the conversation tab, and within a few seconds see 100% of all interactions, and learn by looking at First Call Resolution that you have a higher than usual percentage of complaints.
You then search conversations on compliance, and quickly find 48 out of the 5,000 interactions, based on key words and policy set, are a result of a billing dispute associated with a certain new plan.
You drill down deeper into another layer of data to view selected conversations, with the ability to listen to each while having sentiment at your fingertips.
You pivot to CSAT scores by distribution, trend and by group, and find they are at 80%, 10 points below target in a certain region, and within minutes you have identified a specific, local issue and send a report and sample recordings to the manager in that regional contact center, who then uses that information to understand and correct the issue quickly and precisely, providing coaching and screen pops that will turn the situation around in that location for all future calls. That same manager's team, proactively calls back all those identified customers to improve the customer experience and reduce customer churn.
Using the CustomerView Conversational Analytics Platform, you have resolved a regional issue, and are able to track and follow this in other regions as well, while also sharing the information with the offering and pricing teams by sending them a link to the report and resolution summary, which they can further look into given their access to the system. This best practice can easily be added to your Learning Management System for future self-directed coaching and development.
This is just one of many hundreds and even thousands of scenarios illustrating how contact center and CX leaders can improve how they monitor, manage, troubleshoot, coach and contribute to the success of their organization using automation and AI to run their operations as a true business partner with sales, marketing and accounting.
On CustomerView's unified software platform, a cloud-based service we call CXaaS, the creativity is limitless, given that our customers can create programs for better compliance, auto-QA, top agent modeling, offer optimization and more. We're ready to share a demo with you! Just contact me here (link to Edward's email address).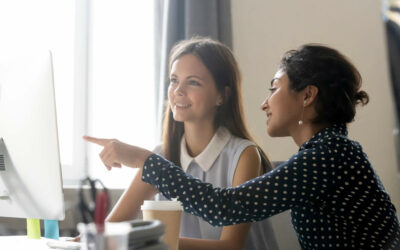 Is it possible to develop a good agent into a great one? The answer is yes – but this doesn't have to happen by itself. Contact centers can accelerate the process of improving the outcomes of every conversation when they leverage advanced AI to automatically gather, analyze and provide insights and tips to agents and their coaches in a continual manner.
read more