Empowering Every Team Member: CX Analytics for Non-Technical Contact Center Leaders Delivered as A Service to All
As the omnichannel world of CX continues to grow, and it is easier than ever for customers to engage with the brands and services they rely on, more data than ever is being generated that can be harnessed to truly understand behavioral patterns and the relationship of actions to outcomes.
Information and insights from hundreds, thousands, hundreds of thousands and even millions of conversations is without question valuable to nearly every team inside every organization, and no longer has to be limited to "contact center managers" and other operational professionals who have limited scope and are often judged based on cost savings rather than contributions to making products and services better.
This is what is now possible to gather and analyze using CustomerView's AI-driven platform which records, transcribes and analyzes every conversation, regardless of channel, and with keywords, sentiment analysis, and generally awesome software makes knowledge and insights available to anyone in an organization who can be more successfully with customer and competitive insights.
Here are five examples of what we mean when we say individuals and teams across the organization can access analytics – without having to have a degree in data science – just a username, password and access to a secure portal where they can learn:
Conversation Intent: why did customers connect?
Compliance: are we meeting legal requirements?
Performance Modeling: which offers have the best close rates? How well do we spot buying signals? How good are we or can we be in predicting churn?
First Contact Resolution: how many customers must repeat their interaction and why?
Performance Scorecard: did we handle customers appropriately and successfully?
Our experience with our most dynamic and creative clients? Once they start to realize that our applications and data architecture (all available as a service, on the cloud) not only captures more information than they thought possible, but then uses algorithms and analytics to capture and understand every conversation, they begin to discover value that their colleagues then appreciate.
For example, one contact center VP used CustomerView to reduce handle times and improve first call resolution realized that the information gathered could also help automate regulatory compliance audits, turning what could be a months-long process of data collection and review into point-and-click filtering and reports.
Another realized that the product marketing team could get near real-time reporting on the response to a competitor's aggressive pricing war and understand if that pricing was triggering calls to cancel subscriptions or request price reductions.
Still another turned to a colleague in the billing department and pointed out trends in billing disputes following changes in the billing system that caused customer confusion when they looked at their online statements; by making small adjustments to the system, mass confusion was avoided by harnessing the insight very soon after the billing system changes occurred.
The possibilities are endless.
Marketing departments can now get near real-time feedback on campaigns.
Product developers can harness customer reactions to features and apply that data to R&D for future versions.
Compliance Officers can login and search for certain phrases, keywords or other data points to track how well conversations are happening down to the agent.
Chief Information Security Officers can track how policies are being adhered to when it comes to private information, sharing of credit card numbers, rebates and refunds, and more.
Even Chief Financial Officers can start to correlate CX trends with revenue growth (or declines), and track improvements to handle time and thus the overall profitability associated with service.
CustomerView platform is more than simple voice recording and reporting and extends understanding well beyond cursory analytics. We've architected our platform and solutions with enormous flexibility, promotion innovation within our client organizations, using AI and automation to create a single source of truth that supports quality, security and governance at scale.
That's why we call it CXaaS (Customer Experience as a Service). Delivered as a service in the cloud, and massively available across all organizations, the insights we offer help organizations transform their operation from a cost center to a business unit.
We'd love to share a demo with you and stimulate your imagination!
Brad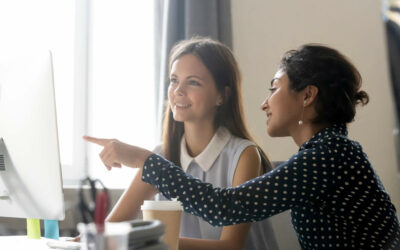 Is it possible to develop a good agent into a great one? The answer is yes – but this doesn't have to happen by itself. Contact centers can accelerate the process of improving the outcomes of every conversation when they leverage advanced AI to automatically gather, analyze and provide insights and tips to agents and their coaches in a continual manner.
read more