What AI Can and Cannot Do for CX: The Next Generation Balancing Act of Data and Humans
Along the hype cycle in the world of CX, Artificial Intelligence (AI) and its cousins Natural Language Processing (NLP) and Deep Machine Learning (DLM) continue to surface in more and more conversations and strategic plans for 2020 and beyond.
Gartner's Hype Cycle traditionally shares the "peak of inflated expectations" and the "trough of disillusionment" that precede the "plateau of productivity" represented by disruptive technologies, and while CX is a discipline, not a technology, the evolution of supporting technologies continues to run rampant, in exciting and often baffling new ways.
We're seeing a gap of understanding among executives responsible for moving CX initiatives through their organizations, a trend we believe will pick up steam after summer vacations, when those executives return to work and to 2020 budget finalization, which always requires homework and vetting of the hundreds of solutions available in the CX tech space today.
A lot of what is driving new thinking and investment in CX is the evolution of the science itself, at the intersection of the realization that winning customer loyalty over time depends on supporting a relationship over time, and not just delivering "okay" transactions measured in traditional ways. In a competitive market, companies who are determined to win market share while increasing share-of-wallet and see the value in improving the customer journey over a period of years and delivering a dramatically better experience than their competitors as a main point of differentiation.
Even as the channels grow and change in the omni-channel world we live in, the ability to capture, store, analyze and monetize customer data around the idea of delivering a brilliant CX is even more daunting, and this is where leaders and innovators in the field of AI for CX are seeing the breakthroughs.
"It's beyond challenging to keep up with the dynamics of CX today," said Joe Galvin, founder and CEO of CustomerView, a company based in Denver, Colorado which partners with many CX leaders, including Genesys. "With the advantages of big data analytics, cloud storage and computing, and applications which can measure every customer interaction, whether that customer is calling from their mobile phone, connecting via the web, connecting via social media and chat, or otherwise seeking help, what's different today is that it is technically possible and economically feasible to generate a ton of valuable insight. The key is balancing the benefits of AI, NLP and DML against the simple truth that humans still prefer to connect with other humans to get their issues resolved fast and friendly."
Today, we all know, even from our personal lives, that customer experiences continue shifting to digital. Even in a physical retail, where shoppers can interact with products in real life, and not just online, digital support is differentiating boutiques to big box stores, including taking advantage of deals, looking up other products on the retailer's e-commerce platform, seeking answers to questions when sales associates are not available, and even taking advantage of secure self-checkout using a mobile payments app.
"Consider retail applications for example," Galvin said.  "Big box stores can optimize their investments in real estate while also keeping customers happy with e-commerce options, rather than losing that couple who is shopping for a large screen TV to Amazon. One approach is to offer live experts who can answer questions in real time while that couple is browsing in Best Buy. While there may not be enough sales associates to help in person, they can simply click on a code to be connected to an expert in that exact product; this is where innovation is making a big difference, and where on the back-end, AI and other intelligent applications can provide a depth of insight to solve real-world competitive problems."
Years ago, CX teams were mainly focused on the web, mobile and social aspects, but more frequently today we are seeing the connection to live agents as a major competitive differentiator. But that can get expensive – and result in not achieving the economic gains associated with "automation" through chat bots and other non-human means.
"AI in fact can generate a ton of cost savings," Galvin said. "It's all in the balance. With AI, brands including retailers can dramatically reduce costs of traditional customer service while making their customers happy with immediate answers – precise and appreciated. It's when the customer needs help thinking through large purchases, high value decisions, or important questions about over-the-counter medications and other needs which cannot be fully automated where AI helps bridge the gap between machine-generated support and human help."
Galvin explained that the CX leaders they work with today start with the business case in order to gain support for advanced initiatives.
"Our customers are really, really smart and they are also domain experts," Galvin said. "Our solutions have been developed in collaboration with true visionaries in their fields, who understand their economics, their competition, and their opportunities to serve the market better. They get the value of big data analytics, and deeply understand the value of what we refer to as Conversational Behavioral Analytics."
While the success of any CX program depends on a talented internal team to deliver results, CX leaders increasingly understand the value of AI, NLP and DLM as tools and systems that support feedback, analytics, and omnichannel experiences at scale.
"Scale is the key word," Galvin said. "It is literally impossible to manage through millions of transactions successfully without software, cloud, and applications. Decades ago, billions of dollars went into physical infrastructure supporting massive contact centers around the world, as outsourcing became a way to keep up with demand and the growth of inbound. Today, as broadband has become more available, as mobile devices have exploded, and as consumers have become a lot more sophisticated, investments are happening in technology at the applications layer, and that includes intelligent computing for analytics that automates the ability to collect, analyze, and turn data into actionable insights."
When asked what the biggest change has been over the last few years, Galvin said "Hands down, this generation of CX leaders responsible for making customers happy at a large scale have learned to leverage applications like AI, and in one case, with one of the largest Communications Service Providers in the world whom we serve, they have figured out how to not just save money, but to dramatically boost loyalty, additional spending, and to literally build new services based on their being bundle with a great CX experience. Service is no longer an afterthought or an operations cost center for large enterprises and big brands – it is now being integrated into product and service development roadmaps, something we are especially seeing in Internet of Things (IoT) offerings."
As with any new technology adoption curve, Galvin, who has been in the contact center and now CX industry most of his adult life, has a down to earth attitude. "It's easy to get caught up in staring at the next shiny object in our industry," he said, noting "the key will always be to balance technological advances with human advances, and to keep the balance in mind, always. When we achieve new levels of satisfaction and happiness by embedding AI and other approaches into CX, and it is invisible to customers who simply feel better served – then we have accomplished the real goal."
Originally posted on CustomerZone360.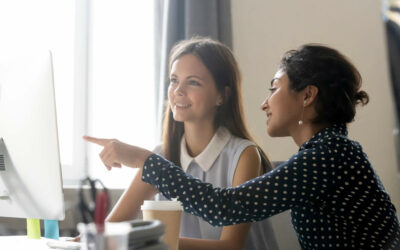 Is it possible to develop a good agent into a great one? The answer is yes – but this doesn't have to happen by itself. Contact centers can accelerate the process of improving the outcomes of every conversation when they leverage advanced AI to automatically gather, analyze and provide insights and tips to agents and their coaches in a continual manner.
read more