To Be or Not to Be: How BPOs Can Arise Out of Commoditization to Competitive Strength
The Customer Care Business Process Outsourcing (BPO) industry is predicted to grow steadily and substantially over the next several years, yet for many of the world's largest organizations, profitable revenue is becoming more challenging as new competitors emerge with less technical debt, access to less expensive but sophisticated hardware and virtualized platforms, and punch above their weight as young, agile companies winning away coveted "Fortune 500" clients.
The global Customer Care BPO Market was valued at $18 billion in 2018 and is expected to grow at a CAGR of 6.2% during the forecast period 2019 – 2027, to $30 billion by 2027, according to The Insight Partners, as companies continue to receive benefits including cost reduction, fewer employees to manage, and improvements to their balance sheets when they no longer have to carry real estate and technology assets. For some BPOs, they are also succeeding in expanding their mandate with customers to amplify their value to those customers – and their revenue from those customers, by helping to increase customer loyalty and retention, upsell and cross-sell.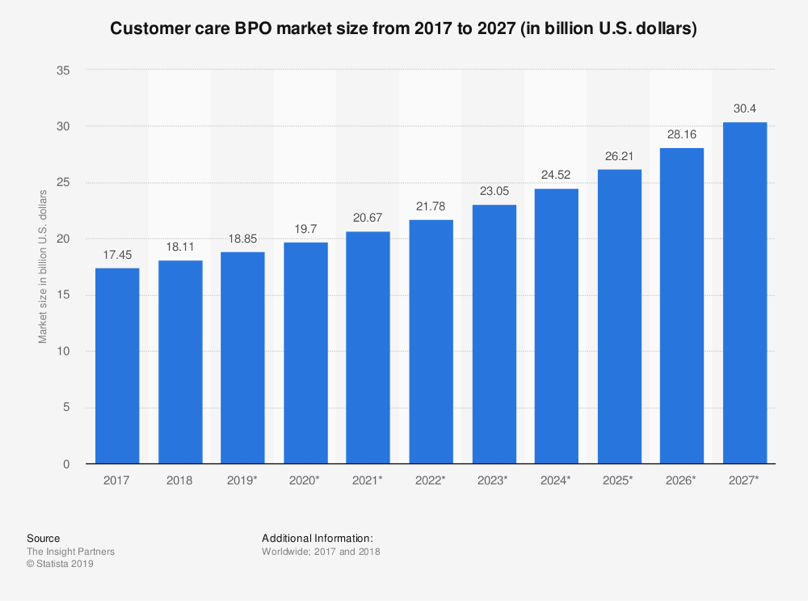 Other BPOs continue to struggle with the commoditization of standard services, as contenders step in with lower and more flexible pricing models, higher service levels, and innovative value-added programs which include integrations with existing or new business applications – from CRM to HR systems, and from outbound marketing campaigns which are highly personalized and targeted to providing sophisticated embedded self-service and chat applications.
How do BPOs avoid the constant pressure toward commoditization, and its associated slowing revenue growth and margin compression?
BPO providers offer a valuable service. Many businesses and organizations still do not see customer care or contact centers and other functions as core expertise, but the function is almost always mission-critical, and growing in importance as more and more consumers are making decisions on buying products and services based on the quality of their experience during the customer journey.
Over the years BPO providers have been forced to increasingly compete largely on price, driving down margins and revenue growth for all traditional participants, and most recently are facing the trend of bringing back onshore operations as customers appreciate more localized experiences, and as technology makes it possible to improve the key metrics associated with success – shorter call times, faster resolution of issues, the ability to create a powerful mix of automated and agent solutions, and innovations that make everything from marketing compliance to regulatory compliance much more efficient.
Customers who were largely supported by offshore resources expected the technology and expertise of their provider to keep costs lower, and while that worked for a while, over time as leaders responsible for ensuring great experiences became enlightened to the role of highly intelligent CX (Customer Experience) platforms and programs, long-term offshore relationships began to unravel.
As CX became "a thing" and Chief Experience Officers (CXOs) began taking over the responsibility for what used to be called "Customer Care" from operations groups, expectations skyrocketed for BPOs who now had an opportunity to grow the relationship with value-added services, but were not always able to understand and supply those new services given decades of ingrained focus on fast, cheap and "just good enough."
The VPs of Operations, who were focused on keeping a "cost center" in check rather than being focused on delivering competitive experiences, were not given incentives and bonuses to innovate and implement breakthrough CX programs, and the CXOs who inherited that responsibility came into their jobs from the fast growing worlds of martech and adtech, with a sophisticated understanding and experience with big data analytics, having grown up in the world of Amazon and other disrupters who paved the way for hyper-targeted selling using recommendation engines and more.
CXOs also tend to have less interest in figuring out how to squeeze another point or two out of costs by bullying BPO partners, and instead are making their impact by increasing investment in CX because they understand the ROI associated with these innovations. According to The Economist Intelligence Unit, 59% of companies see their turnover increase faster when they prioritize investment in the customer experience.
In 2018, a leader in CX, PwC, hired its own CXO, announcing that the role would "evolve the firm's approach to business transformation by bringing in experience strategy, design, and user experience (UX) capabilities."
Meet Your New Decision Maker, CX BPOs.
The scope of the CXO extends beyond traditional "operational steward." They are tasked with ensuring every aspect of the business contributes towards a positive engagement between the brand and the consumer, including the "contact center" which is starting to see "internal competition" for resources as those who hold the new purse strings are exploring advanced technologies, including Artificial Intelligence (AI) to better manage the entire lifecycle, from attracting new customers, to retaining and growing their base.
For those BPOs who get this, they are avoiding legacy price competition conversations and instead are investing in the future of CX, by adopting more and more technologies including the ability to access, analyze and create a new depth and breadth of value based on information gathered across multiple channels.
By offering new services, including Business Intelligence that can benefit nearly all departments in medium, large and massive global organizations, advanced BPOs are driving the growth in the industry, and with revenues that are largely generated with software-based cloud offerings, which require less physical infrastructure and other overhead costs than the "toll free" models of the past.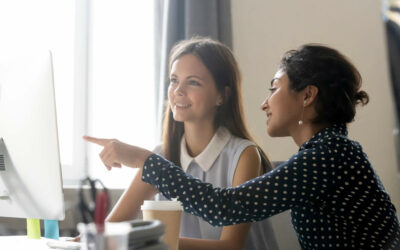 Is it possible to develop a good agent into a great one? The answer is yes – but this doesn't have to happen by itself. Contact centers can accelerate the process of improving the outcomes of every conversation when they leverage advanced AI to automatically gather, analyze and provide insights and tips to agents and their coaches in a continual manner.
read more