The Leap from Artificial Intelligence to Authentic Insights: Genuine Connections Can't Be Automated
Let's not get carried away with the notion that corporations can save billions of dollars by replacing human beings with machines. While there is, of course, huge opportunity to create efficiencies through robotics in factories, "co-botting" in distribution centers, and self-checkout in next generation fast food restaurants and grocery stores, when it comes delivering high value service to go along with high value offerings – nothing will ever be better than a human to human conversation.
The key to success in the next generation of CX is augmenting human performance, by equipping live, expert agents with the information and systems they need to be able to resolve a problem, recommend new services, and deepen customer loyalty by being friendly, fast and flexible.
Smart, sensitive and swift.
Look at it this way: would you really return to your favorite restaurant for a romantic dinner if your favorite server was replaced by a robot?
Given the impact food delivery services today are having on restaurant traffic, restaurants are being forced to create an "experience" that goes along with the food, and a huge part of that experience are the human beings who share the specials, share their favorites, suggested complementary wines, and surprise you with a happy anniversary chocolate lava cake at the end. Is the food important? It is. But the experience that goes with the food – the ambience and the people – are what create memorable moments and loyal patrons.
In a world where expectations continue to climb, and patience declines, it is not only tempting to explore new technologies that can help speed up calls and online inquiries – it is paramount to do so.
Even the best bots can't compete with great agents.
We believe it is the careful choice of technologies that will enable brands to differentiate themselves, and for those brands who are selling subscriptions with monthly recurring revenues for Internet access and mobility services, ensuring the consumer's choice to "speak with an agent" is honored is what can make or break a decision to switch to the competition.
For those brands selling the latest connected products, they can no longer simply sell an in-home security system out of the box; they need to be prepared to walk customers through set up or troubleshooting, or those systems will be promptly returned – costing time, money and in the aggregate, potentially disastrous tech product roll-outs.
For those brands competing for the wealthiest customers, or the most active business travelers, a loyalty program simply cannot be "automated" and run through "artificial intelligence." Upscale consumers are demanding consumers and they enjoy being treated as a VIP – and VIPs are not used to having to wait for a chatbot to divine their issue. They want to click on their mobile concierge button and reach a real live concierge.
With the allure of "artificial intelligence" to slash the cost of service, is there a middle ground? We believe there is a higher ground – and that is recognizing good agents and supporting them as they become great.
We are honored to be working with awesome brands with whom we have defined a magical mix where the adoption of AI, machine learning, natural language processing, cloud, big data analytics, and productivity applications that simply make people better.
Our technology, working in harmony with some of the best contact center productivity platforms in the world, helps coaches coach better, helps them identify the human behaviors that result in excellent outcomes, and results in greatness at scale.
Our solutions deliver to the human who serves the customer the right information at the right time, providing that human with the training and incentives to provide that fast, friendly and flexible experience and not only do you turn a frustrating IVR-based 20 minute conversation into a 2 minute conversation with a happy ending – you also gather tremendous data about why that went so well.
This is where "AI" and the natural scale and economics of the cloud pays off: turning good agents into great agents, turning great coaches into phenomenal leaders, and turning successful brands into sustainably successful companies people want to do business with.
As revealed in the CX Transformation Benchmark Study by NICE:
Over two-thirds of all customer service interactions, or total volume, are with live customer service agents (e.g., voice or chat).
Over two-thirds of customers prefer agent assistance over self-service.
Over two-thirds of self-service interactions also end up involving agent assistance.
Will these opinions change over time? Likely, the numbers will, but is highly unlikely that we'll see a fully automated and artificial (in other words "fake") customer service platform in our lifetimes. What we will see is the enhancement of jobs, where turnover is one of the highest across industries, when those jobs are fulfilling because the people who hold them have what they need to truly serve customers, and in turn, support the brands they represent.
The data will prove that, and we predict this same valuable data will not only make conversations better, but entire companies as this information becomes priceless to more than the operations team – priceless to the C-Suite, the product people, the marketing people, partners and distribution channels.
Here's to AUTHENTIC INSIGHT enabled by artificial intelligence.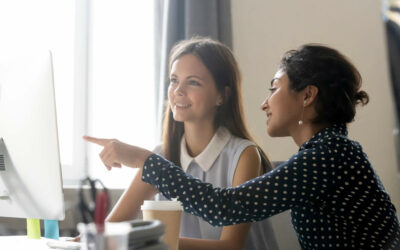 Is it possible to develop a good agent into a great one? The answer is yes – but this doesn't have to happen by itself. Contact centers can accelerate the process of improving the outcomes of every conversation when they leverage advanced AI to automatically gather, analyze and provide insights and tips to agents and their coaches in a continual manner.
read more