With a 3 to 1 Proven ROI on Contact Centers for Online Health Services, It's No Wonder Insurance Companies are Investing
The vision for healthcare delivered more efficiently via virtual visits (using voice, video and online collaboration) is becoming a reality, and this is great news for consumers, providers, and insurance companies. Call it telemedicine, telehealth or connected care – the idea of bringing together doctors, nurses and specialists with their patients over the Internet has been around for over two decades, and there are now many successful companies in place offering the technology platforms that support this movement, or actual services using those platforms.
While it may be many years more before we see large facilities of physicians and other healthcare providers offering online care through contact centers, we are seeing tremendous growth in contact centers that play an important role in connecting patients and providers more efficiently than ever before.
The same holds true for the insurance companies who pay for visits, and for government agencies including Medicare and Medicaid and the Veterans Administration; we all benefit when the cost of care goes down, and the quality of care goes up (and can be validated through the collection of data showing outcomes and "ROI").
We recently came across a fascinating case study sharing the experience of a health care plan in Florida which set up a call center – a survey that correlates results on customer satisfaction with employees' self-reported customer-oriented behaviors, and management ratings of employee attitudes, and thought we'd share it here.
The full study can be found here, and in summary:
More and more patients are accessing their basic records, managing their insurance claims, and researching medical information online.
Health care customers are increasingly sophisticated in their use of technology and have increasing expectations about the level of service they receive.
Customer satisfaction and loyalty are connected more closely to the quality of personal service that is provided than to the technology that may expedite their request.
Approximately two thirds of all U.S. hospitals employ call centers for a variety of purposes and that number is steadily increasing.
Health care call centers are increasingly adding nurse advice lines, disease management programs, and in more integrated health care delivery systems, call centers support affiliates such as physicians, suppliers, and health plans.
"While few studies have actually quantifiably correlated customer satisfaction with ROI of health care call centers, a four-year study of 25 hospitals and 807,000 call center callers (representing 1.9 million calls) succeeded in linking the caller/patient activity to clinical transaction data," the report says.
On the basis of its study, Solucient, a repository of healthcare intelligence and benchmarking information, concluded that call centers generate a ROI of at least 3 to 1 and are an essential driver of hospital revenue, profitability, and patient loyalty. "Since patient loyalty translates into ongoing revenue for a hospital, building loyalty must be the primary goal of any call center," Solucient concluded.
The data shared as part of this study showed that the "Local Health Plan's Call Center appears to be succeeding in satisfying its customers, as evidenced through its customer perceptions of the quality of service they are receiving.
The case study also revealed challenges, primarily keeping a staff of well-trained employees.
As Local Health Plan's Call Center manager revealed, "We recruit and hire capable people and train them well to be excellent customer service representatives. It seems that as soon as they are fully trained, they are hired away by other departments in the system that also recognizes their value. The knowledge and experience gained from serving the complex needs of health plan customers is appreciated throughout the organization, and an associate with the right attitude, intelligence and commitment can go far."
Given the contribution to the bottom line that was achieved, investing in supporting "a knowledgeable and motivated cadre of representatives should result in a stable core of loyal customers who may or will contribute to Local Health Plan's revenues for many years to come. This loyal customer base will certainly help provide a positive ROI for all the time and money invested by the organization in developing and maintaining its outstanding customer service."
Investing in technologies that make the important work of agents and managers in health-related contact centers easier and more impactful also makes sense, especially when one considers patients may be worried and anxious when they connect with both traditional contact center and advanced healthcare delivery online solutions.
With AI solutions like CustomerView, training, motivation and ongoing coaching can include not only compliance with the right scripts and policies, but an ability to be empathetic, understanding, and professionally helpful which will further deepen loyalty and lead to better outcomes – more efficiently than ever as "in-person" visits can be minimized and more convenient online services can be delivered with the same sense of humanity and care with the right programs in place.
Over time, data collected enriches insights, including Conversational Behavioral Analytics, which enlightens agents, their managers, and their entire organizations with information that transcends what is typically generated and includes patterns of positive behaviors which lead to happier patients and more meaningful jobs for those serving those patients.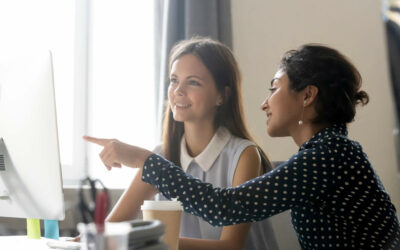 Is it possible to develop a good agent into a great one? The answer is yes – but this doesn't have to happen by itself. Contact centers can accelerate the process of improving the outcomes of every conversation when they leverage advanced AI to automatically gather, analyze and provide insights and tips to agents and their coaches in a continual manner.
read more