CXaaS With A High Degree of Intelligence: Cloud Contact Center is So Last Year
Even though cloud contact centers have been around for well over a decade, the term is still seen by many as a "hot trend" in 2019. Has it been easy to develop, manage and advance pure cloud contact centers? It has not, but today, with the growth of Network Function Virtualization (NFV) among service providers, and Software Defined Network (SDN) among enterprises, including Contact Center Business Process Outsourcing (BPO) companies, "the cloud" has been commoditized.
Even Amazon is in the game now, with their Amazon Connect service, which is served from the AWS cloud. "Amazon Connect is a self-service, cloud-based contact center service that makes it easy for any business to deliver better customer service at lower cost," they say, and "Amazon Connect is based on the same contact center technology used by Amazon customer service associates around the world to power millions of customer conversations."
Amazon is an interesting example in that Amazon is known for their deep data analytics, which started with recommendations to buy books, then music, then products of all kinds on their consumer marketplace.
They are promoting a self-service graphical interface that "makes it easy for non-technical users to design contact flows, manage agents, and track performance metrics – no specialized skills required."
They also position all this as a service: "There are no up-front payments or long-term commitments and no infrastructure to manage with Amazon Connect; customers pay by the minute for Amazon Connect usage plus any associated telephony services."
They've advanced beyond traditional notions of cloud contact center by simplifying everything, lowering costs, opening opportunities for SMBs to compete with larger enterprises by literally leveling the playing field – and this should have every contact center and Customer Experience (CX) technology provider on high alert.
We believe in Customer Experience as a Service (CXaaS) and our technical vision for this goes well beyond the ability to deliver real time communications applications via the cloud, private, public, or hybrid. In order to create sustainable value, we must keep pace with our hyperconnected society, where consumers are demanding immediate answers, faster fixes, and friendlier interactions. Brands selling products and services to these "Now Generation" consumers must invest in delivering the best CX, and without automation – a LOT of automation – and without intelligence – a LOT of intelligence – the cost to do so becomes impossible.
Our Definition of CXaaS
CXaaS brings together the factual "as-is" with the predictive "what-might-be" – only possible with a service that can ingest massive data streams and extract insights that help a company evolve as their customers do.
The value upside is obvious; for example, look at what a one-point improvement in this CX Index from Forrester results in as far as cost savings: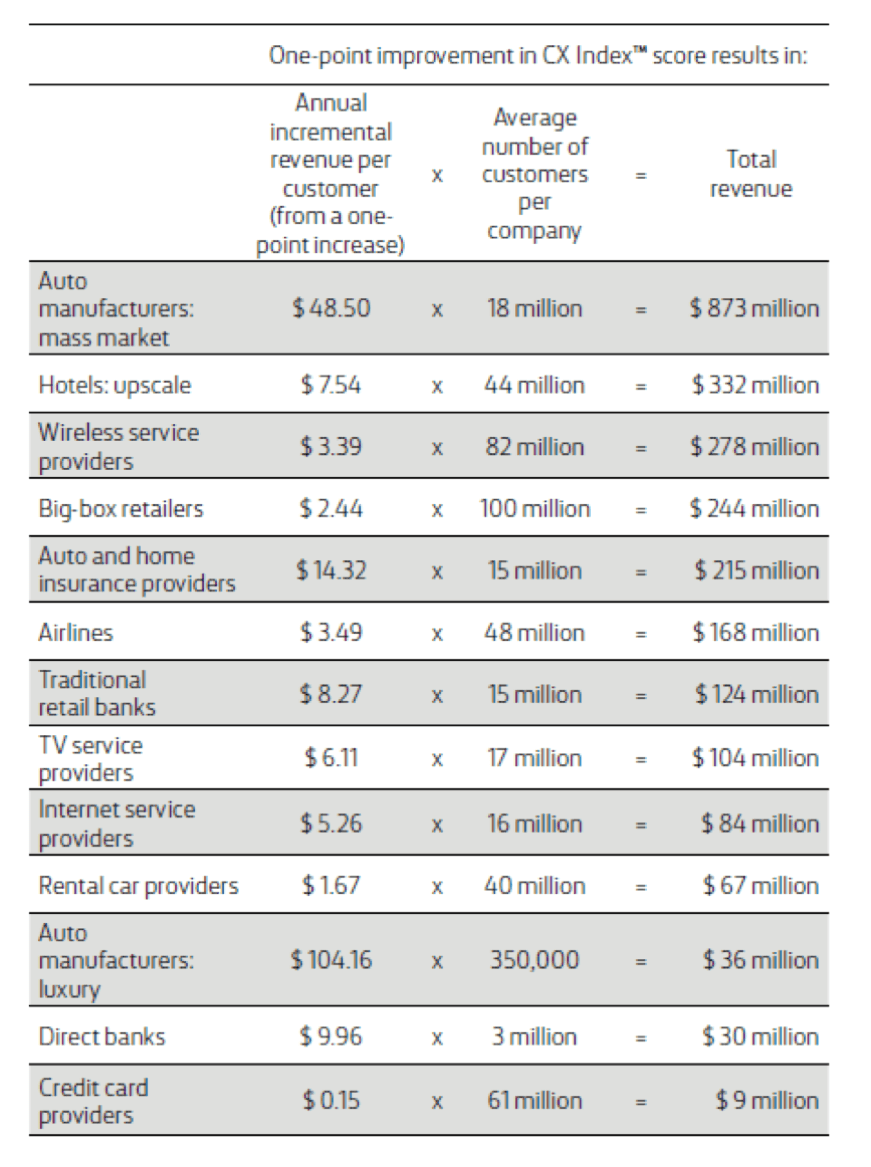 When we say CXaaS, we mean metrics. A lot of metrics. All captured and analyzed on our unified platform and delivered 100% as a service to our customers.
While we would be delighted to share details of all the data we capture and analyze in our advanced data analytics platform and demonstrate the power of our IP, here's a brief summary of the many "points of light" we are able to capture and convert to business insights.
There are 4 main conversation metrics made up of 38 sub categories and 1 main Voice Feature metric made up of 3 sub categories that can be utilized to define and measure a positive or negative customer interaction. These measures of success are tied to a variety of KPI's (Key Performance Indicators) that can shape the customer experience and business performance from a qualitative and quantitative perspective.
Over Talk Metrics (6 metrics): Customers and Agents talking over each other present a host of poor customer experiences from a customer's perspective and misunderstandings from an Agent's perspective. 
Talk Time and Rate Metrics (18 metrics): This metric mainly measures how much Customers and Agents talk vs. listen to each other.  Data shows, top agents listen more than they talk and they spend a majority of their time in the Discovery mode to fully understand the customer situation.  Another major focus of this metric is to measure silent time and having the ability to analyze what the agent was trying to process and what system they access prior to the silent time to diagnose if it is a people, process or technology barrier. This metric has huge AHT efficiency impacts.
Talk Style Tone and Volume Metrics (8 metrics): This metric measures the sentiment of agents and customers and has a tremendous impact on the customer experience. This taps into the true trigger points of how to improve the customer experience by measuring the customer and agent from the beginning to end of the interaction, while having the ability to surgically pin point areas where the customer's sentiment changed either positively (for best practices identification) or negatively (for issue identification & resolution).
Specific Sentiment Metrics (6 metrics): This metric is another critical component towards measuring of sentiment of a customer and agent interaction, which is also used in conjunction with CustomerView's performance management analytics platform to pinpoint people, process and technology barriers. 
Voice Features Metric (3 metrics): These metrics by itself and more importantly utilized with the full arsenal of customer sentiment metrics enables you to generate information regarding the volume, energy and frequency of each word from the CustomerView analytics engines. You will be able to analyze word results that include values for the dominant and secondary peaks, along with average between the word timing and the frequencies values and spectrum frames within the words.
While we leverage the cloud to be able to collect, transcribe, analyze and send information into applications we've designed, the cloud is simply a more affordable and sustainable way to compute.
In Summary
As "pinned down networks" and "on-prem equipment" goes the way of the dinosaur, BPOs are rapidly adopting cloud but not for its basic infrastructure. In fact, they are simply replacing expensive and complicated legacy networks to be able to deliver increasingly competitive services – but those services themselves are what will win the day – and a huge part of the future of CX success for BPOs and their customers is data analytics, including across all voice and non-voice conversations, and integrating machine-created data to be able to serve humans faster, better, more accurately and less expensively.
As always, it's really the "apps" that companies and organizations pay for – that is where the value is, and we see massive value already being created in the category we call CXaaS – for many compelling reasons.
To learn more or set up a technical deep dive, feel free to email me at edward.clark@customerview.net.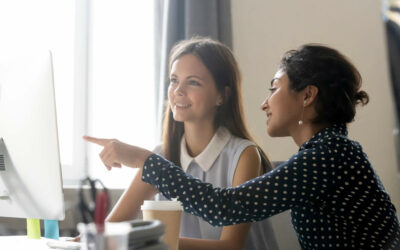 Is it possible to develop a good agent into a great one? The answer is yes – but this doesn't have to happen by itself. Contact centers can accelerate the process of improving the outcomes of every conversation when they leverage advanced AI to automatically gather, analyze and provide insights and tips to agents and their coaches in a continual manner.
read more