Simplifying Customer Journey Programs Through More Intelligence, Automation and Creativity
The Customer Journey concept has been around for a few decades, and the implementation of programs designed to understand and respond to how consumers find, engage with, buy from, and buy more from brands has long been the "holy grail" of integrated marketing and customer service.
It makes sense, right? We can use intelligent software to follow the behaviors of consumers or businesses, in the case of B2B, to understand what truly makes decision making tick.
How are offers discovered?
Why do certain offers resonate while others fall flat?
What gets people to engage, online or by voice?
How do people buy products and services and how do they prefer to pay for them?
Why do they buy additional products and services, or why do they not?
Why do they leave?
Just as there can often be a "love/hate" relationship between consumers and brands, after many years of experimentation with instrumenting and automating the customer journey, there are also multitude "love/hate" relationships with customer journey projects.
It's complicated.
Why have so many Customer Journey and "Customer Journeymap" projects failed?
This is likely due to unmet expectations.
We all know what's going on with Amazon, Spotify and other online e-Commerce companies; they follow our every move and recommend things that we do want and appreciate, so much so that up until now we've been willing to exchange our privacy for convenience. It works!
But even as customer journeys were trending in the initial years of the "world wide web" (which is only thirty years old this week) and the e-commerce explosion, more and more channels were showing up to attract – and distract.
Just when an enterprise thought they figured out the customer journey for their new online marketplace, m-commerce happened.
And as soon as they thought they figured out the combination of e-commerce and m-commerce, social media happened.
That took a few years to sort through, then the mobile payments ecosystem completely changed, making it easy to see something, buy something, and share something all in the same app.
At the same time, omnichannel systems grew, and given the confluence of multiple channels, there was more data coming from more channels in more detail than any of us could imagine.
You can't force people to love you.
This is true in life and commerce: while some marketing and CX scientists may believe software and applications can force humans to change, it's just not a reality. In fact, after all the innovation and acceleration of technologies, consumers and business decision makers are more tuned into privacy and security concerns than ever, and they are losing their trust in even the most epic brands.
When one of the world's largest banks, one of the world's largest health insurance companies, and one of the world's largest hospitality chains is hacked and billions of records are stolen, people continue to think more deeply about what they are truly willing to give up in exchange for convenience – and deals.
With all this happening at once – from the technology itself to new private individual information and compliance regulations becoming fiercer – getting customer journey projects to deliver a solid ROI has been difficult.
The ability to process massive amounts of data legally and respectfully is the key to success on this journey.
It's not that customer journey programs are a bad idea. They are a great idea! We've just not had the experience or tools, until now, to automate them to the right level of granularity and insight.
Our new opportunity as an industry is to collect information, in completely legal ways, and then process that data using the power of cloud computing, AI, and software applications that can deliver accurate, timely and well sifted data that feed customer journey projects.
This is what we've been working on at CustomerView – and with voice still, by far, the most preferred channel for contact center and other CX interactions, we decided to master that (with automatic transcriptions, storage, analytics, search and more) to transform voice conversations into text that can be combined with other text streams, associated with the same subscriber, or customer.
With our platform, data can be managed in a sane and cost-effective way, and can enhance customer journey programs in ways that will generate the kind of outcomes organizations are looking for:
More revenue
Less operational costs
Burnished brands
We'd love to learn about the journey projects you've been working on, and to exchange ideas on how we can take good ideas and make them great – in large part by combining great information with great expert agents, real live human beings who are still the most adept at delivering service and happiness to others.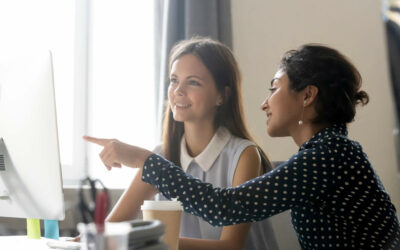 Is it possible to develop a good agent into a great one? The answer is yes – but this doesn't have to happen by itself. Contact centers can accelerate the process of improving the outcomes of every conversation when they leverage advanced AI to automatically gather, analyze and provide insights and tips to agents and their coaches in a continual manner.
read more