CX Metrics in the Age of AI
We're all familiar with traditional measurement of contact center operations; they've been part of the industry for decades. With the growth of the Internet, websites, self-service, mobile devices, mobile apps, social media and changes to consumer behaviors in the "always on" world, the industry has been in a constant state of reinvention given the value of data in reducing operational costs, while improving service.
Chatbots – voice activated assistants – Natural Language Processing NLP – and Artificial Intelligence (AI) are changing the way we measure CX once again, and at a scale few could have imagined only a few years ago.
Before we get into these shifts, let's look at the most traditional metrics, which are still important today, but not as granular, not as vast, and not as near-real-time as the latest software and cloud advancements make possible.
Net Promoter Score (NPS) – percentage of customers who recommend companies to others
Customer Satisfaction (CSAT) – the average or mean satisfaction score for a given experience
Customer Effort Score – the effort required by the customer to complete an interaction
Customer Retention Rate – percentage of customers who stay with the company over time
Customer Churn Rate – the number of customers who abandoned the company, including cancelling subscriptions
Average Resolution Time – the time to resolution of a customer issue
First Contact Resolution – the number of customers whose issue was successfully addressed on the first interaction
These metrics will never go away, but are they enough?
Customer experience (CX) programs are prolific, but most have not produced the success that companies want. Why?
According to a paper by MaritzCX, it is because "most programs are focused on chasing scores rather than examining how to achieve those scores."
Their CXEvolution organizational assessment and maturity framework offers suggests a more modern approach to CX management by "combining academic rigor and deep practitioner experience to build an empirically valid maturity model that organizations can use to achieve measurable gains in their customer retention and financial goals."
The new bottom line, Maritz says, is to stop chasing scores and start chasing outcomes.
Evidence from MaritzCX suggests that CX programs are maturing; their CXEvolution global study of 4,000 CX professionals worldwide revealed that 56% have a formal CX program, with airlines, consumer packaged goods, breweries, apparel, and supermarkets leading the pack.
CX is a growth market – growing from an estimated $3.7 billion spent on CX programs and initiatives in 2014 projected to rise to more than double at $8.3 billion forecast for this year.
The paper further evidenced that while CX programs are on the rise, outcomes have been disappointing.
 Only 28% of CX professionals surveyed reported that their CX programs were very successful, which mirrors research from the Temkin Group, finding that less than one-third of companies rate their efforts as "good" or "very good" when it comes to "making changes to the business based on insights." 
The study also found that a higher maturity level in implementations of CX programs ultimately drove huge financial gains.
In other words, the MaritzCX study says, "All CX programs are definitely not created equal."
So, even as traditional CX programs, measure by traditional metrics improve with experience, the addition of NLP, AI and platforms hosted on the cloud that are able to process exponentially more data, faster and less expensively than ever, are raising the bar when it comes to truly understanding what customers are not only doing, but how they are feeling.
Joe Galvin, CEO of CustomerView, a Denver-based company bringing a big data analytics engine and AI platform to contact center partners and enterprises, says "The amount of data will continue to grow, and we're seeing huge ROIs from companies who know how to use data in real-time to automate tasks, manage multiple channels, and support live agents. Analysts tend to agree that a gain of 30% in productivity, based on the traditional metrics, is easily achieved when data can be collected, store, processed, analyzed and use to improve workflow and more."
ICMI has published frequently on the shifts underway including this post which is a "must read" for those passionate about figuring out how data and analytics, including AI, will shape CX in the future.
ICMI's Jeff Rumburg writes, "Agent productivity is what most people think of when it comes to making the contact center more efficient. However, it turns out that optimizing agent productivity, by itself, often does very little to move the needle on cost. By contrast, optimizing channel mix can sometimes have the effect of reducing cost per contact by 50% or more.
Channel mix is simply the percentage of inbound contacts that arrive at the contact center through various channels: voice, chat, email, web, IVR, AI, and walk-up. As shown in the example above, deflecting contacts into the IVR can have a significant impact on total cost per contact! This is why so many contact centers devote substantial resources to optimizing their IVR menus.
Wage rates drive cost in a labor-intensive function. As such, large contact centers tend to be located in geographies that have lower wage rates. From a cost perspective, it makes more sense to find a contact center in Des Moines, Iowa than in New York City; or in Manila than in San Francisco.
Finally, contact centers are increasingly taking a page from IT Service Management, and adopting the principles of Problem Management, an ITIL discipline that focuses on the root cause elimination of contacts. Some contact centers have been successful at eliminating up to 30% of their annual contact volume through effective root cause analysis."
Rumburg writes in detail about these trends, focusing his point-of-view on cost containment, which can be specifically measured and "mixed." 
"As a 30-year veteran of this industry," he writes, "I have seen contact centers struggle more often than not with cost containment. Many times, these contact centers do not understand the connection between productivity and cost, or they view productivity too narrowly, strictly in terms of agent efficiency and utilization. By viewing productivity more broadly, as any factor that impacts cost, it is possible to open up new avenues of productivity improvement. Some of these productivity factors – including channel mix, geographic location, and root cause analysis – have the potential to reduce the overall cost of your contact center dramatically."
CustomerView's Galvin agrees, and believes AI advances will take cost reduction even further, including lowering the cost of compliance and audits. "As more industries become increasingly regulated," Galvin said, "our customers are taking advantage of AI and automation we provide that generates more data – since we record and transcribe every voice conversation into text, store it at scale in the cloud, run it through our engine using our algorithms, and produce information that can ensure compliance while also making an audit so much easier. Our clients are realizing millions of dollars in savings for this kind of application alone."
The real upside, however, based on Galvin's experience with large scale projects over the last few years, embedding their AI solution into existing contact center platforms as a sort of "bolt on" capability, is intelligence that can be creatively and securely shared across many departments.
"With voice as a pure data source, aligned with multiple channels, our customers collect incredible insights on customers' emotional states, on the competition when they search for keywords including their competitor's brand names, on new products and services, and increasingly on live campaigns," Galvin said. "We work with martech leaders like Invoca because with AI, with all this intelligence, companies really can track various customer journeys to not only improve service – at a lower cost – but drive innovation and provide valuable input into future investments."
While Galvin agrees that a good 1/3rd of cost savings can come through a reduction in headcount, he says agents will improve, and become more professional with more sophisticated tools – the machines helping the humans with more accurate information and helpful guidance.
"One of our greatest learnings while pioneering in this area has been the importance of partnership, integration and technology ecosystem," Galvin said. "Enterprises deeply value having all their tools together across a unified platform, because they are seeing that the data is not just helping improve agent productivity, but everybody's productivity when insights are well designed."
While we're still early in AI in the CX world, the research going into this category is growing and there is a strong alignment among analysts that automation that blends data across human and machine interactions is poised to reduce costs, improve service, and influence innovation.
"For every company, every use case, metrics will be different – which is why flexible platforms and agile development designed to solve specific challenges associated with different industries, products and services makes sense," Galvin said. "Having tools that enable creativity are valuable to developers building CX solutions that differentiate their company's brands in ways we haven't imagined – yet."
This article was originally posted on Techzone360.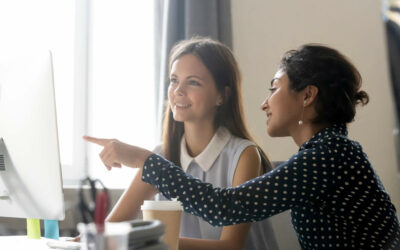 Is it possible to develop a good agent into a great one? The answer is yes – but this doesn't have to happen by itself. Contact centers can accelerate the process of improving the outcomes of every conversation when they leverage advanced AI to automatically gather, analyze and provide insights and tips to agents and their coaches in a continual manner.
read more