Walking the CX and Privacy High Wire: How to Balance Care and Compliance
We're only human, and certain things seem to universally annoy us these days:
Too many steps to get a question answered
Information that must be repeated when contact centers don't orchestrate the handoff properly
Preferences and credit card information is not saved across systems
Contact center agents forced to upsell or cross-sell choices that are irrelevant
Simply being on hold for a very long time in the era of high expectations – fast, accurate and free
When we layer in stricter privacy laws (for example GDPR established in 2018 and growing in 2019), the complexity of delivering great experiences across channels while respecting private information integrity can be mitigated by software – and measured by the same software when the right platforms are selected.
Consumers have been willing to give up privacy, but are they changing how they feel about the trade-offs between more convenience and the sharing of their personal information and odds their credit cards and even health records may be hacked?
Competitive forces and market dynamics in nearly every industry are driving enterprises and organizations to undertake digital transformation initiatives, adding more technology into their connected products, adding more features on their websites, expanding their social media presences and generally improving customer experience.
While the consumer self-service trend continues, given all the natural benefits including cost reduction for businesses, people still want to speak with other people especially when a customer "hits the wall" and is too frustrated to have to decode chatbots and other experiences which are frankly more convenient for the business than the customer (or prospect).
The human element is major differentiator for brands who understand they cannot compete based only on their products and services, but on the "CX" they deliver and measure.
But how can companies manage the proliferation of channels today (with voice still the most popular, enhanced with email, chat, social media, texting and more)?
Artificial Intelligence (AI) was at the top of most 2019 CX predictions at the end of last year, and we can't argue with that. With AI, which is already deployed in e-commerce platforms including Amazon, shoppers are very happy to give up the rights to their behavioral data in exchange for deals and recommendations.
With AI, a voice-activated assistant can sense your preferences and make recommendations on new music, movies, streaming series, and more.
AI has been making it possible for companies like Amazon, Apple, Facebook and Google to leverage the information they collect about buying habits to create a more personalized experience and predict future actions. They can also leverage that information to understand political and religious opinions and beliefs, a hard lesson we all learned over the last few years.
Predictive consumer analytics is not new, but it is starting to scare a lot of consumers given massive breaches of their personal information, given up in exchange for convenience, entertainment and connecting with other people.
As early as 2010, Jeff Bezos described "business intelligence and data analytics, machine learning and pattern recognition, neural networks and probabilistic decision making" as among the technologies Amazon was already exploring to build its customer base.
One Amazon application "back in the day" allowed online retailers to predict when a caller was checking on an order, prompting the system to bypass IVR systems and deliver information the system guessed would be requested.
This is fact: meaningful data analysis requires access to personal information, potentially leaving companies at risk of fines and breaches that can destroy brand equity in a matter of hours.
Companies who disregard or try to skirt increasingly strict privacy regulations are losing customers and facing massive fines.
With massive breaches (Facebook, Equifax, Uber, Intercontinental Hotels, and too many more to list) there is growing awareness and rising public concern over data privacy, and in 2019 we're going to need even more help to walk the tightrope.
Finding Equilibrium: The Balance of a Great CX and Personal Information Integrity
Last week, Sift, a fraud prevention and risk management solutions company using real-time machine learning, released a new survey tackling the issues associated with ensuring innovative, new and even embedded communications services which make consumers lives more convenient, but which don't compromise privacy regulations or personal information security.
Responses for the Digital Trust & Safety: Aligning Security and Growth Strategies report were generated from a survey of 500 professionals across North America with responsibilities related to fraud, risk, mobile or ecommerce operations and strategy, representing companies with 500+ employees and across online retail industries including travel, hospitality, ecommerce, and other digitally transforming verticals.
Their outstanding report explores the tension created when businesses work to get closer to customers, meeting their needs in innovative ways, while protecting those same customers from fraud or other negative outcomes.
The report, which Sift worked with independent analyst firm, Berg Research, to collect the data, was commissioned as part of the company's ongoing efforts to help brands reach, target and connect with customers.
"The traditional mindset towards managing risk has focused almost exclusively on preventing loss," the report says. "The organizational structures, processes, and tools that accompany legacy approaches sprang from a single goal: risk mitigation. They focused all their attention on finding and eliminating <1% of their users who were bad, while losing sight of the 99%+ who are legitimate. Little or no emphasis was placed on maintaining a great customer experience, increasing user engagement, or enabling revenue growth."
In a feature article on the report, written by tech journalist Shrey Fadia, and published by CustomerZone360, Fadia says:
"The report cites complex and frustrating fraud mitigation approaches that haven't scaled, and certainly will not scale without more intelligence and automation going forward, as humans are increasingly hyperconnected, not only with others, but with machines and services.
The description of 'online fraud' used to be straight forward: using a stolen credit card to make a purchase. But now criminals have definitively broadened their tactics beyond stolen credit cards, taking advantage of online businesses and their users in new ways."
The attack surface is growing, the report says, "as businesses add more features and capabilities to increase user adoption and engagement."
One-click checkout, peer-to-peer marketplaces, digital goods, customer reviews, and referral programs are popular among consumers, "but criminals are adapting their techniques to exploit those very features, making it harder to keep pace with evolving attacks."
"Friction is the enemy of growth. If companies continue to manage risk at the expense of the customer journey, they will not survive in the digital economy," said Jason Tan, CEO and Co-Founder, Sift, in the company's press release announcing the report. "This will require more than simply adding a new tool or process. It requires a fundamental change in mindset to harmonize growth and risk."
Can businesses deliver it all and still protect private information and follow new regulations, which are expected to increase as many countries begin to follow in the footsteps of GDPR, as well as states like California which enacted the most sweeping privacy regulation in the history of the US?
Organizations who are able to manage risk while optimizing CX are unlimited, and given advancements in new ways to capture, record, transcribe, store, analyze and audit even every voice call (in addition to chat, messaging, bot-driven support, and more) is now possible, and we're proud to say – it's a huge part of the value of the CustomerView cloud-based, programmable platform. We help our customers improve compliance – while improving the CX.
Reach out to me here if you want to learn how.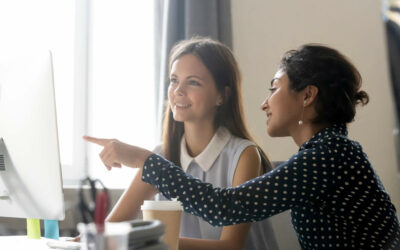 Is it possible to develop a good agent into a great one? The answer is yes – but this doesn't have to happen by itself. Contact centers can accelerate the process of improving the outcomes of every conversation when they leverage advanced AI to automatically gather, analyze and provide insights and tips to agents and their coaches in a continual manner.
read more