Customer Experience as a Service: CXaaS Is a Team Sport
"CXaaS empowers organizations to deliver the CX they want with the speed, reliability and efficiency their customers expect – but without breaking the bank."
Customer Experience is all about how customers discover, engage, interact with, and feel about companies they buy products and services from. Even though voice remains the dominant channel for customers, the remaining – chat, email, web, and even SMS – continue to grow.
What we know from behavioral analytics is that customers interact with companies and mostly evaluate their experience, and their opinion of the company, on the most recent interaction.
And, as research indicates, one bad experience can cause a customer to switch to a competitor. 
Even though delivering the best CX is a competitive advantage, accurately measuring it is hard. There are so many levers – quality, price, situation, motivation and emotion – a mix happening in real time across so many channels, so getting to "the truth" can be daunting.
We believe the only way companies can benefit from the true measurement of CX is "as a service" – and we believe CXaaS – Customer Experience as a Service – is the wave of the future, and a solution we are already providing today through the CustomerView platform.
We know this is also a "team sport" – with massive amounts of data being collected in contact centers, for example, it is impossible to analyze and correlate multiple streams without a solution that unifies and harmonizes "everything."
This has been the impetus for building our platform from day one, and today we have integrated across dozens of existing CX platforms, able to ingest and analyze data which is then presented in a visualization tailored to each company's needs, and to each individual that company – whether the agent, manager, operations lead, marketing lead, HR lead, and even legal and compliance teams.
Delivering transformative and results-based insights is now possible, given advances in everything from voice to chat to cloud.  However, cloud alone is merely the infrastructure to serve up critical information to multiple stakeholders, in contact centers and the companies they serve. The cloud simply makes advanced applications possible, particularly when those applications leverage the advantages of cloud storage and processing.
A few years ago, when we started on our journey, we knew it was time to rethink the way we monitor, measure and optimize digital conversations with individual customers – whether they are web-based requests responded to by chatbots in a self-service model or direct voice calls into contact centers, or a mix of the two, with advanced software platforms, hosted on the cloud, it is possible to capture content, sentiment and outcomes from each and every interaction.
CXaaS done well must happen in concert with existing platforms (for example a Genesys platform, with which we've integrated our solution) and must fuse what a company wants to happen to what customers want to happen, allowing companies to decide what actions to take to improve experience (or not).
The only way the volume of data and analytics on that data can happen for a reasonable price is by leveraging the cloud for storage and analytics, ingesting data from multiple sources, consolidating it into an AI application, and delivering it to end-users using an interface that is intuitive, with actionable information that are consumable.
Why is CXaaS So Powerful?
CXaaS brings together the factual "as-is" with the predictive "what-might-be" – only possible with a service that can ingest massive data streams and extract insights that help a company evolve as their customers do.
Look at what a one-point improvement in this CX Index from Forrester results in as far as cost savings: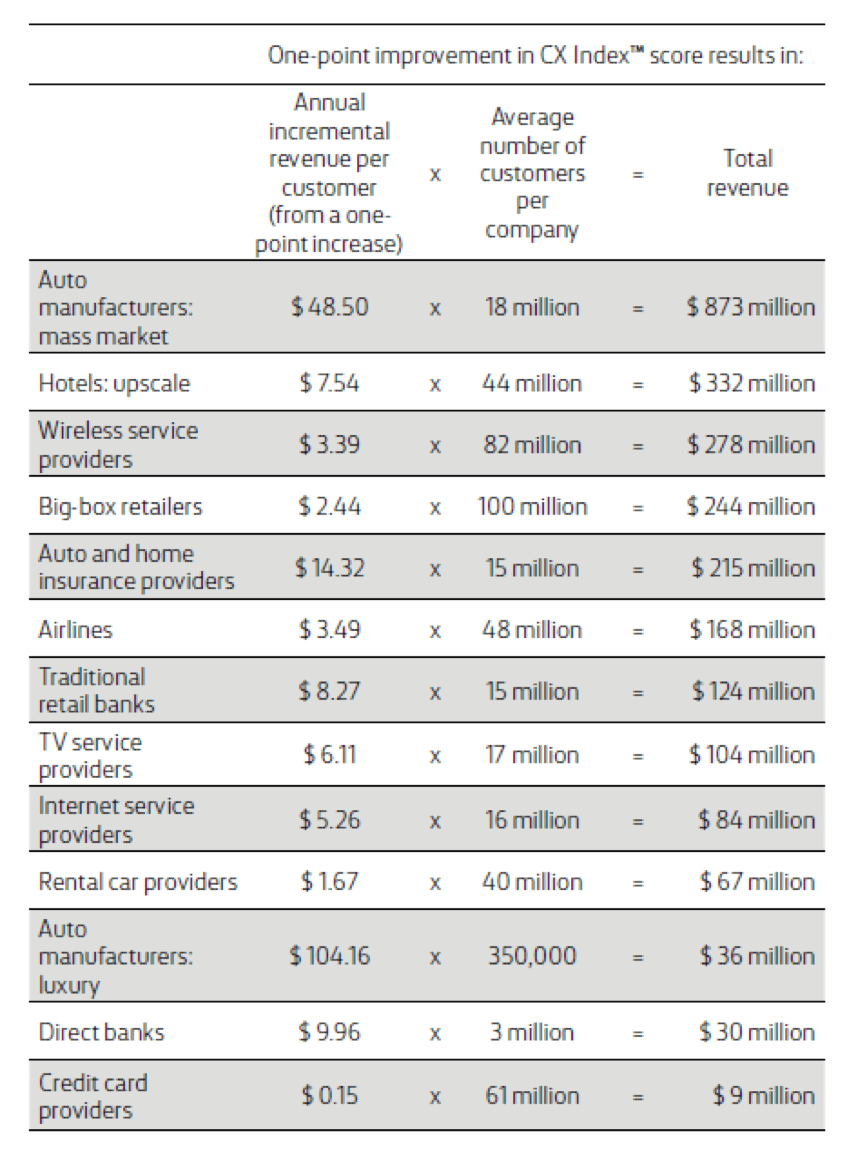 Given such obvious use cases with proven ROIs, what is holding companies back from committing to increasingly sophisticated CX programs?  
The answer is not just technology, but the right solutions now possible given the evolution of software, cloud and networks.
Where do enterprises start when it comes to transforming their legacy contact centers and related application so they can tap into more and more data as their sales and services become more and more digital?
CXaaS: Software as a Service that improves Customer Experience
While each customer has different priorities, delivering a great customer experience comes down to understand each customer's real needs, understanding company expectations, while providing the means to do both.  But when there are thousands, tens of thousands, hundreds of thousands, and even millions of interactions taking place every day – how is it possible to deliver this intelligent, responsive and extremely personalized service?
CXaaS makes it possible, including integrating applications that listen in for keywords, capture sentiment (from confused to upset to enraged), all while seamlessly integrated with internal applications (previous orders, previous interactions, high value customer, loyalty programs) to instantaneously support effective resolution, selling or technical support.
Effective CXaaS can be implemented cost-effectively, as an opex-only service, served from the cloud where information is securely stored, with analytics run in near- or real-time, on a subscription or per-seat basis.
Customer View comes in with our highly sensitive and yet infinitely scalable machine learning and AI services designed to collect, analyze and deliver insights on what makes conversations and experience great, whether they are delivered by a bot or live expert). As a pioneer of CXaaS, it enables exponentially more intelligent interactions – all the time – one interaction at a time.
CXaaS empowers organizations to deliver the CX they want with the speed, reliability and efficiency their customers expect – but without breaking the bank. Cloud economics is a powerful element of CXaaS, given that the software can be implemented quickly, and scaled as organizations expand, contract or otherwise change.
Customer View is part of the larger community of technology companies dedicated to improving the way organizations and their customers connect. The other great advantage of CXaaS is the ability to combine forces and integrate applications using APIs – programming CX platforms based on specific offerings, products, services and business models.
CXaaS for a retailer is different than CXaaS for a broadband provider, for example, and with "programmable capabilities" we can adapt endlessly, supporting marketing campaigns, or responding to business challenges (for example, product recalls, changes to programming, outages, and more).
CXaaS is "real time, all the time" – scalable and adaptive.
CXaaS is designed to deliver great experiences with great applications – and agents who can interact with people who appreciate being seen and heard, treated with personalized care.
As brands, companies and organizations strive to deliver millions of positive "moments of truth" in unprecedented volumes, with the right data analytics they are empowered to also deliver unprecedented positive outcomes.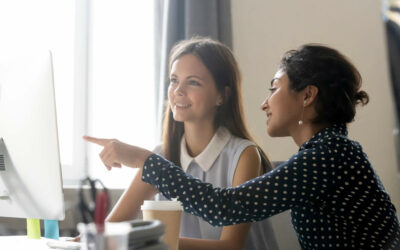 Is it possible to develop a good agent into a great one? The answer is yes – but this doesn't have to happen by itself. Contact centers can accelerate the process of improving the outcomes of every conversation when they leverage advanced AI to automatically gather, analyze and provide insights and tips to agents and their coaches in a continual manner.
read more