More Intelligent, More Intuitive, More Adaptive: Contact Center Software for A New Year
Heading into 2019, year-end trendspotting is surfacing predictions for the future of nearly every form of technology, and after years of software disruption in the contact center, customer engagement and customer experience industry, one CEO of a fast-growing Denver-based startup is turning away from the usual predictions and sharing, instead, insights driven by years of developing sensitive software that can analyze in near real time "digital conversations" happening between brands and consumers.
"We're in a new world now," said Joe Galvin, founder of CustomerView, a company supported by CR-X, a global software development firm based in Australia, and developer of the CustomerView big data analytics, AI, natural language processing and deep machine learning platform. "Our collective team here in the US, Australia and elsewhere are veterans of the telecom and customer service industries, and even as we have been working very closely with customers and partners over the last three years to build a capability to truly understand, record, transcribe, analyze and report on interactions the landscape has become more dynamic and exciting than we originally believed."
With technology giants like Amazon, Google and Microsoft investing more in the space, Galvin believes the bar is being raised and that any successful brand – banks, insurance companies, travel companies, healthcare providers, consumer electronics innovators and more – will need to "lead with speed and service, giving this and coming generations who will expect immediate and accurate answers, and efficient and friendly support, through the channel of their choosing."
Galvin sees the affordability and availability of more scalable and less expensive technologies (including AWS and other cloud application providers) as key to unlocking innovation which will not only drive adoption but change the compliance landscape in ways we could never have dreamed of in the premise, then hybrid, and now nearly pure-cloud world.
"A few years ago, no company could afford to store millions of recorded conversations to run analysis against. No company could afford to transcribe voice into data in high enough fidelity to make those transcripts sensible enough to analyze. Today, we have the physics, the networks, the software, clouds and engines for AI, machine learning, and more and these components are so powerful – innovation in the era of hyper-digital conversations between brands and their customers is literally limitless," Galvin said.
If it's no longer cost holding companies back, or software and platforms that make development of new applications easier and faster to do, why aren't more companies developing more sophisticated sentiment analysis for example?
"To be successful requires a deep, profound understanding of how our customers' businesses operate, and an appetite to really dig in and capture the dynamics driving change," Galvin said. "We look at all aspects of our customers' businesses, without taking a narrow view of contact centers as cost centers. We look at compliance as regulation continues to grow to protect consumers' privacy, data and interests. We look at the changing channels, including voice – still the most popular because it is simply the most convenient – and at the patterns of inbound coming from social media, text messaging, embedded web apps, and all the routing in between."
With all that, and with a fiery enthusiasm for what is technically possible, Galvin said "It still comes down to people. Based on a lot of research published just this year, it always will, even though the way an agent is matched with a consumer is changing. This is what lead us to our greatest insight and successes with our customers and partners – know what great looks like."
Galvin says large enterprises with massive contact center operations are learning that the ROI associated with figuring out how to balance better business outcomes (attracting and retaining customers) with compliance requirements (PCI, HIPAA, GDPR) while controlling costs (reduced call times, for example) is extremely solid with the right solution, which is a combination of integrated solutions.
"Face it – there are two reasons consumers reach out to brands – they are either upset, or they are interested in buying something else. With voice transcription, a solid data architecture, analysis, AI, and an ability to consume insightful information, brands and their customer experience ambassadors can do a much better job understanding the emotions – the emotions are information," Galvin said.
"Now, what we used to call supervisors or managers are now able to be coaches, with the right information presented in the most immediate and helpful way and identify the people and the behaviors of those people that make certain agents rock stars," Galvin said. "Those coaches can rinse and repeat and cultivate more greatness within their team and can now show their brand customers what great literally looks like with outcome information."
Galvin's vision for the company in 2019 is focused in large part on the adjacencies between serving existing customers and attracting new ones, while also selling more products and services into enlightened brands' markets. "We have just begun to scratch the surface on a more holistic approach to supporting a brand's voice by integrating more humanity into the entire journey for more lifetime happiness and value," Galvin said. "This is why we love working with our partners, including companies like Genesys, Vonage, Nexmo and others. They share our vision for breaking down the artificial barriers of the past, when customer service was an operations chore and cost center, constantly the victim of annual budget cuts," Galvin said.
"The world is waking up to what digital transformation is really all about, and that is supporting conversations that happen every day, all day long, while consumers are at home, on the run, in a grocery store, at the doctors' office, and now interacting with their connected smart home appliances," Galvin said. "We love companies who make it easy to find things, buy them, use them and upgrade them, and we reward those companies with loyalty that can go on for years, even generations. Drivers don't just love Suburu because the cars are pretty good, they love Suburu because they feel the company itself is great. We help brands tap into that vibe, including everything from sentiment to problem solving, with all the data captured and analyzed."
Galvin explained that even compliance can be fun!
"What used to be one of the worst aspects of being in a regulated industry turns out to be one of the coolest now, given that hidden in the conversations businesses are now being required to record, transcribe and make available to regulators, there is a depth of useful information that can help companies improve not only their service, but their product offerings," Galvin said. "Why not turn a chore into a joy? And why not dramatically reduce the cost of compliance by making the software do the work – record, transcribe, analyze, alert, resolve, and be ready to show that reporting to an official in minutes. Compliance audits were nightmares in the past and caused a lot of risk including legal and fines. Now, auditors can access the same data being used to improve how businesses are run. If that is not a win-win, what is?"
Galvin has worked for some of the largest telecommunications and contact center companies in the world, as an employee and a consultant, and says, "I've felt the pain up close and personal, and for me building CustomerView along with the brilliant data scientists at CR-X is liberating. I'm seeing so much hard, expensive, grueling work – which has gotten limited results – being made easier, less expensive and actually fun with the magic of data analytics."
Galvin is also high on partnerships in the community, unlike any he's seen in over two decades in the industry. "We love working with Genesys, for example, and being part of their marketplace. Since our application is very focused on processing conversations which are routed over their platform, we just needed to architect our software on the CR-X platform and expose our capabilities through APIs," Galvin said. "This means for Genesys sales folks they can instantly bring a new service to their customers – a super valuable service – without disrupting their operations. We are excited to be part of many similar partner ecosystems, and on a path to build our own as the new world of interoperability matures in really magical ways."
When it comes to "relationship goals" in 2019, Galvin said the companies biggest challenge is keeping track of all those Tinder swipes, in a rhetorical sense. "There are so many cool companies we're working with, as partners for tech integration as well as go-to-market, including martech companies, that we can't keep up with the demand given that we are still a start-up. At the same time, because we're all moving to the cloud and everything-as-a-service, we're all learning how to play well with others and truly help end-customers enhance their brands and business growth."
Galvin's interest in the human-machine connection is becoming a passion. "While we've worked very hard to automate countless routine tasks, and while we've experimented with dozens, hundreds of different features for bots with more empathy, what we've seen is that jobs in contact centers, and distributed cloud customer experience businesses, are going to get better. Assisted by analytics, people who enjoy helping other people are enjoying it even more, as they have accurate, timely and analyzed information in front of them. Coaches now have reports they can share with the teams they mentor, and with the brands they commit to represent with real ambassadors. When you know what great looks like, you can make greatness possible for many more people who will feel better at the end of each day knowing they were able to make consumers happier. This is the new virtuous cycle our industry has been waiting for, and it's good news for society."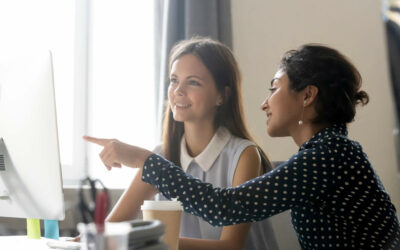 Is it possible to develop a good agent into a great one? The answer is yes – but this doesn't have to happen by itself. Contact centers can accelerate the process of improving the outcomes of every conversation when they leverage advanced AI to automatically gather, analyze and provide insights and tips to agents and their coaches in a continual manner.
read more