Millions & Millions: How Cloud Scale Makes Insight into Every Interaction Possible
The multipliers associated with omnichannel customer experience (CX) are well known, but not as well understood today. The impact of supporting incoming inquiries and subsequent interactions when channels include voice, web, self-service, social media, kiosks, mobile apps and more can be daunting for brands and their contact center service providers to manage.
CX transactions are usually not one-off interactions. Rather, a single interaction is only part of what constitutes a healthy brand-customer relationship, and usually leads to several additional transactions. This is becoming even more interesting to engineer when chatbots trigger escalations to live human agents, routing to experts in the product or service.
These "interaction multipliers" drive up the volume of transactions at increasingly higher velocities and there is no end in sight for the growth of multi-faceted, routed and ultimately completed digital conversations.
Depending on the products, services, business model and desire to build competitive advantage, which naturally varies from company to company and even industry to industry, a single transactional event, for example disputing a bill, can result in as few as a single thread to dozens of threads, creating relational data that can quickly scale up into the millions of records each day.
The ability to support the scale required to deliver insights – to multiple departments within a business – against multiple channels of inbound, interactive and outbound sessions – is part of what inspired us to establish CustomerView, built on CR-X's cloud-native platform.
Why cloud?
There's a natural scalability using cloud services (in our case, AWS) especially for global, distributed businesses.
Until ten years ago, existing contact center technology gave businesses limited options. Countless companies and their BPO partners got locked into expensive, on-premise contact center infrastructure that won't scale. This is completely understandable! Traditional infrastructure was the best option at the time.
Today, those legacy systems are being replaced by cloud contact center technology and applications, including CustomerView.
With reliable, secure and proven cloud solutions, businesses don't have to maintain the additional redundant hardware and data center space required by non-cloud solutions. The biggest benefit of moving to cloud may be the ability to continually enrich their platforms with new solutions, like our Artificial Intelligence (AI) and Natural Language Processing (NLP) analytics capabilities.
Cloud contact center approaches deliver disruptive advantages including scale, global reach, improved reliability, cost control, creative development opportunities, and – in short – an ability to reduce operational costs while improving competitive advantages.
When businesses move real time communications from legacy, on-premise systems to cloud-based software, quality of service – and security (increasingly important these days) – and compliance – can be vastly improved.
We work with AWS given their track record when it comes to uptime, their distributed software layer which eliminates the need for multiple "carrier" contracts, and more. We work with companies like Genesys, given their market leading position in everything from IVR to the support of messaging, WebRTC, chat, video, click-to-call and more.
We interface easily with attributed-based and omnichannel routing software solutions, mobile customer care (outside or inside mobile apps), and we enhance basic tracking by providing highly sensitive software, powered with AI, to identify which agents are excelling – listening into the conversations between agents and customers, and providing guidance that improves outcomes in near real time and dramatically impacts outcomes over time, given our capture of behavioral data associated.
Businesses no longer need to hope that whatever sample is being review is accurate. Why? Because with CustomerView, literally every interaction is captured, every voice call transcribed, and every aspect analyzed to deliver actionable insights – from a single conversation – to unlimited streams of conversations which quickly equate to an ocean of data which we are able to manage because our architecture has always been cloud-native.
Cloud platforms and technology ecosystems are making it possible for companies to control their own roadmap, making upgrades easily, without upfront capex and based on opex – based on scale.
With a cloud contact center, as business goals change, companies can adjust their technologies to meet new challenges, including winning based on providing the best possible CX.
We're ready to share a demo on how CustomerView can scale your CX initiatives to new heights – learn more here or contact me here.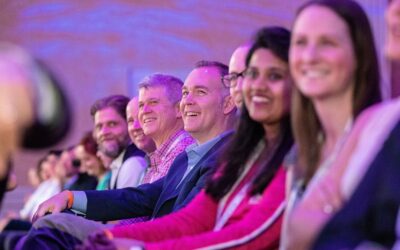 Is there a better way to start the New Year than with friends? The potential of AI and CX in contact centers, but also across the enterprise was the story we shared at this year's big event bringing together thousands of Genesys executives, sales and marketing experts, channel partners and technology ecosystem contributors including CustomerView.
read more