At the Intersection of CX & AI: 10 Trends for 2019
Welcome to the new year, and to the continued acceleration of innovation as the CX technology landscape continues to evolve – and the value of customer data continues to rise.
There are more channels and there is more consumer choice than ever, which is causing an exponential level of complexity and data capture when it comes to brand engagement, whether for attracting new customers, solving their problems, addressing their needs, retaining those customers and with the right approaches, converting those customers into advocates.
2019 will be the year when the "art and science" of managing every interaction, every conversation by voice, text, social and chatbot will mature, and when brands who invest in ensuring outstanding service will experience the impact of differentiating their brand based not only on products and services – but measurable happiness.
Emotions can be measured, which those of us who have devoted our careers in the contact center and CX industries have known but have not – until now – been able to visualize and act upon with help from AI and machine learning techniques in near-real-time.
Research shows that there is nothing more sensitive than the sound of the human voice to convey emotional messages: happiness, sadness, fear, irritation, tenderness, and no emotion at all.
Research also shows that facial and gestural cues can also be analyzed as cues to what human beings are experiencing emotionally, for example the facial expressions of singers when they are delivering a ballad. This may explain the growing popularity of apps like Skype and Facetime, where we not only hear each other's voices, but see each other's faces and body language.
When it comes to texting and social media messaging, an entirely new world of "emoticons" has grown to massive proportions – an attempt to humanize what some consider the "unnatural act" of typing our words, vs. saying them aloud?
Regardless of the source, the fact is that we have more tools than ever to capture, record, analyze and act upon signals in ways that can turn even the most heated discussion around – understanding anger, fear, uncertainty, confusion – and addressing that with exactly the right responses to calm, support and ultimately ameliorate whatever concerns drove an individual to "call for help."
We believe 2019's biggest trends will be driven by respectful applications that help brands and their contact centers or BPO providers to better understand all the dynamics, regardless of the channels or communication modalities, to become the best at service, not just product offerings.
Here are 10 trends we are seeing, related to this mega trend:
With more automation through AI and ML, we'll see a smaller number of human agents empowered by support applications which make them better agents, able to understand and solve problems faster and friendlier.
With more integration of systems, we'll see information harnessed from the analysis of every conversation in such a way that provides invaluable guidance to marketing and product line management teams, delivering consumable information that can illuminate opportunities for new features, better pricing, or other core capabilities.
With more immediacy, we will see coaching within contact centers rise to a new level, where managers have access to near real-time information that will help them identify opportunities for improvement (or identify individuals who simply may not be the right fit for dealing with a temperamental public).
With more storage capability, at lower prices, we'll see a greater means to review historical information and track trends in ways which would have been cost-prohibitive before.
With more powerful and secure networks, and cloud access, we will see a bumper crop of innovative applications which can be personalized very specifically for businesses, allowing them to customize how they are collecting digital conversation sessions, programming those applications to gather exactly the kind of responses to products, services, pricing and more, which can fundamentally improve planning, development and future investment with credible, fresh datasets.
With easier integration between systems, including APIs for exchanging data, we'll see a dramatic evolution of partnership between "marketing" and "customer service" and even a blurring of the lines, which will result in conversations that deepen customer loyalty and open the door for more revenues (without the clumsy, forced "sales pitches" of the past).
With the ongoing, massive digitization of all businesses, we'll start to see service delivery moving into a contact center like environment; for example, there will be telemedicine and telehealth applications where medical professionals work from their desk to deliver consultations, to prescribe medicine, to provide counseling; analysis of these conversations will lead to better and better outcomes, for far less cost.
With continued regulation to ensure consumer privacy rights and protections, we envision a sea change when it comes to how audits are performed; when conversations are recorded, transcribed and stored in the cloud as text, analysis through searching and key words becomes exponentially easier to do.
With an economic upturn (thinking positively as we start the new year) more investment in innovative, connected services will flood into the market, and we'll see more smart devices in our cars, homes, workplaces and public spaces; with what some say could be 200 or more connected devices in an average home over the next decade, we know there will be new needs for support for everything from installation to ongoing maintenance.
With better chatbots, and more intelligent AI and ML based applications that personalize experiences for consumers using those chatbots, the escalation to a live agent will become more automated, precise and effective in a world where consumers demand immediate answers and gratification.
Threading all this together? Partnership! Our team at CustomerView and CR-X couldn't be happier with the partnerships we've been putting together over the last few years, including those with Genesys, Vonage and Nexmo, and more [need your help here]. With the right partnership and technology approaches, we all make each other better, and it is our honor to serve as the experts in the most advanced AI and ML software applications and platform that easily integrates into existing platforms for immediate enhancements our partners can bring to their client base and their clients' customers.
The new more open, ecosystem friendly world makes it possible to reduce the cost and risk of "DIY" software development for solutions like ours by making it easy to "plug in" capabilities – helping the entire community "Know what great looks like."
Here's to another exciting year in a field we are passionate about, and a lot of fun and meaningful work together on the art and science of CX – 2019!
Joe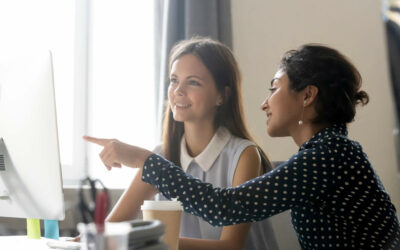 Is it possible to develop a good agent into a great one? The answer is yes – but this doesn't have to happen by itself. Contact centers can accelerate the process of improving the outcomes of every conversation when they leverage advanced AI to automatically gather, analyze and provide insights and tips to agents and their coaches in a continual manner.
read more