Making Omni-Channel Analytics for the Enterprise Easier to Access Than Ever
A report by Gartner predicts that by 2020, more than 80% of customer interactions will be serviced by chatbots and non-human agents.
Earlier this year, Google announced big plans for AI powered virtual assistants and voice-activated bots.
But will live agents completely disappear?
We – and our customers – don't believe so.
We do believe that AI, made easier to implement with Cloud Contact Center platforms, will enable different tiers of service, and "triggers" that will take consumers to the perfect live agent depending on the initial automated, bot interactions.
"Conversational commerce" is a natural extension of voice active assistants (galaxies beyond "IVR" as we knew it a decade ago) and we are in awe of the innovation happening in this realm.
At the same time, consumers still wish to speak to a real human, particularly one with expertise in the product or service they are inquiring about.
Smarter analytics is the key to boosting contact center efficiency, and with speech and text analytics aside, predictive analytics can generate even more gains, and happier consumers – while bringing deep insights to the business.
AI-powered systems still need a human interface, and when contact centers combine AI and human interventions, you get the best of both worlds. AI can remove human errors and community management teams can build more seamless and creative experiences that retain human touch and bring in both contextual and cultural relevance.
Intelligent speech recognition and routing systems can help contact centers generate more business and sales, mapping a customer's caller ID automatically to reveal instant preferences and buying/customer engagement history.
With most customer care and contact center enterprises existing on social media, the data on these social media websites are also helpful for resolving customer problems and predicting customer behaviors.
Our customers and partners also appreciate the compliance benefits associated with more intelligent, AI-based platforms like CustomerView.
Our team has been in the business of helping brands help their customers for decades, and are admittedly "nerds" when it comes to innovation, evolution and transformation in this space – we'd love to learn what you're seeing and to work with you on the future!
For more information, please contact me at bradr@cr-x.com.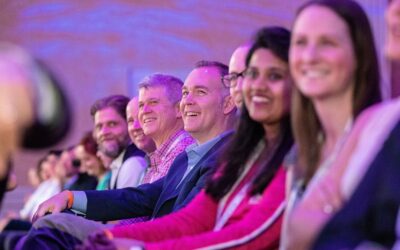 Is there a better way to start the New Year than with friends? The potential of AI and CX in contact centers, but also across the enterprise was the story we shared at this year's big event bringing together thousands of Genesys executives, sales and marketing experts, channel partners and technology ecosystem contributors including CustomerView.
read more