Converting Customer Analytics into Corporate Performance Improvements: Don't Stop at Data Collection
There's no question that successful brands are investing in collecting data on existing customers to retain them and grow their business through deeper customer loyalty. Information harnessed in those brands' contact centers is growing exponentially, but how is that data being analyzed and used, in real time to improve interactions between agents and customers, and over time to bring valuable insights to product, marketing and executive teams for the improvement of overall corporate performance?
The opportunity and challenge we've recognized is the application of AI and machine learning to translate massive amounts of captured customer data into immediately useful information (helping managers coach agents to become great brand ambassadors) and longer-term strategically relevant insights.
Advanced analytics applications including big data may have failed in the past to deliver a unified, solid strategic direction, or even super practical uses for example ensuring compliance and making audits easier through more automation and better data management.
As AI improves, and as more and more companies innovate using AI in enhancing their contact center platforms and approaches, there are lightbulbs going off everywhere.
It's been an exciting few years for CustomerView, as we have worked with large brands with massive, distributed contact centers to layer our AI capabilities over the data they are collecting across all channels and modalities – from voice transcription and analysis to analysis of all text-based inbound messages from their customers (web, social media, and embedded messaging).
With our specialized CustomerView "customer experience optimization" platform built by CR-X, leveraging strengths of their own software, cloud-based, and integration friendly data and analytics platform, we've been able to work closely with our customers and partners to make real time and longer-term analytics easier and more practical – more useful and profitable.
McKinsey & Company has been following this area for years, initially publishing a breakthrough study in 2013, Using Customer Analytics to Boost Corporate Performance. The DataMatics 2013 benchmarking survey was conducted from May to June 2013 with 418 senior executives of major companies from a wide variety of industries and distributed equally across Europe, the Americas, and Asia.
Key take-aways at that time included the following:
49% of companies who champion the use of customer analytics are likely to have profit well above their competitors.
50% of companies who champion customer analytics are likely to have sales significantly above their competitors.
Companies championing the use of customer analytics are 6.5 times more likely to retain customers, 7.4 times more likely to outperform their competitors on making sales to existing customers (upsell and cross sell strategies), and nearly 19 times more likely to achieve above-average profitability.
McKinsey's visionary study also found when they correlated the level of capability to perceived value contribution of customer analytics. Fact-based decisions, fast translation to action, management expectations aligned with results, using appropriate techniques and actionable insights are the five most important elements that deliver the value of analytics, according to the report.
Enabling integrated multichannel marketing (29%), frontline embedding of analytics (28%), expanding customer analytics across the value chain (27%) and processing real-time data (24%) are the four key areas where integrating customer analytics across the value chain of a business were paying off the most.
Over the last five years, enterprises have been paying attention, but still our customers and partners are seeing huge opportunities to improve even further, especially when it comes to the contact center and it's growing relationship with marketing (responsible for attracting more customers in the beginning of the journey, and working more closely than ever to help with the retention and "lifelong" growth of loyal customers).
Fast forward to 2018: McKinsey dispels rumors that contact centers will be replaced by bots.
Earlier this year, McKinsey posted a blog which referred back to their original study and said:
The rumor: Advanced chatbots and virtual agents will make contact centers irrelevant.
The reality: Humans (and the contact centers they work in) will be more important than ever.
There's no question that what contact centers do is changing. Our research shows that as early as 2015, digital channels—web- and app-based digital self-service, email, and web-chat— already accounted for 30 percent of all customer-care interactions. Many of the simple, transactional activities that once kept service agents busy are now routinely completed by customers online. And those customers aren't being forced into the self-service route, they actually prefer it.
It's equally true that over the coming years, the rate of automation is set to accelerate. New technologies, including natural-language-processing (NLP) systems, internet bots, and artificial-intelligence tools, will increase the range and complexity of care tasks that can be handled by machines, and will feel more "natural" for customers, too. Already, digital-native companies seamlessly mix chatbots and human-enabled chat seamlessly, so that customers often can't tell whether it's they're interacting with a machine or a human. Most of the time it's both, as machines take over important parts of the dialogue, such as clarifying the customer's intent or finishing the conversation (a task that can be surprisingly awkward even for people who know each other).
Does this spell the end for the customer contact center? Far from it. Customers still want to be able to interact with a real person when they need help with difficult or high-value tasks. Research shows that more than 50 percent of customers want to interact with a human in case of a crisis, or when they need a solution to a problem with a product or service. Skilled human agents are still the best guides for customers trying to navigate complex or highly customized product and service offerings.
Those types of interactions are critical. They can be the decisive touch points that determine the customer's perception of a company, and whether they stick with the company in the future. Moreover, these live interactions provide irreplaceable switch-sell and up-sell opportunities that might otherwise be lost. But a majority of the customer-care executives we surveyed say they don't have enough agents with the right skills for engaging in these complex conversations.
We, and our customers and partners, couldn't agree with McKinsey's wisdom more.
The real opportunity going forward is to assist human agents in become great! With real-time analytics on every conversation (regardless of the channel – voice, web, social, text messaging) immediate improvements can be made – and regulations can be adhered to.
With compliance becoming ever more stringent, whether for privacy, security or legal and marketing requirements, why not become GREAT at compliance, while also enhancing the potential of the humans who represent the brand on the front lines every day?
Our theme is "Know what great looks like" for a reason: this is what our platform enables enterprises and BPO service providers to do. We're all about leveraging the most advanced AI and machine learning technologies to provide real time visibility into how conversations are going, while also collecting and analyzing that data, making it consumable not only to the agents and managers – but to the marketing people, the product people, to human resources, and to executives with intelligent and visually appealing reporting.
It's working, and we'd love to explain in more detail how – and why.
Please contact me for a demo and a great conversation.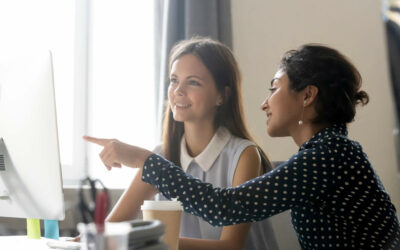 Is it possible to develop a good agent into a great one? The answer is yes – but this doesn't have to happen by itself. Contact centers can accelerate the process of improving the outcomes of every conversation when they leverage advanced AI to automatically gather, analyze and provide insights and tips to agents and their coaches in a continual manner.
read more