Contact Center Compliance Is A Team Sport: Customer Experiences That Meet Regulatory Guidelines
Contact centers have evolved dramatically and as we head into 2019, we're seeing an acceleration of innovation being driven by a confluence of factors, including the move to the cloud, the advancement of AI, analytics and big data, and changes in the regulatory environment.
Even as recently as a decade ago, contact centers (previously known as call centers and customer service centers) were a "necessary evil" back-office function, focused primarily on operational necessities and cost reduction.
With a shift towards Customer Experience (CX) and a continuum of customer engagement technologies, contact centers have become far more strategic as enlightened brands recognize that the way in which they interact with customers is as important as their core products and services as the world becomes more connected, and consumers become more digitally savvy.
Today's best contact centers drive up customer loyalty and increase revenue, which offset the expenses incurred associated with running them. But with these benefits comes increasing pressure for compliance and more intense and potentially complex and expensive audits.
The disruptive shift to cloud and away from expensive on-premise equipment is just beginning, even as breakthroughs including work-from-home models and software-based, real time communications solutions have been in the market for many years; the scale of that disruption and impact on the Business Process Outsourcing (BPO) market is only now positioned to create major threats – and opportunities – for contact center companies.
One of the biggest opportunities given the shift to the cloud is technology-enabled transformation based on Artificial Intelligence (AI).
More Data Means More Compliance Challenges
Because new technologies, including voice recording and transcription, generate even more data associated with consumer interactions, concerns about privacy are growing, and regulations to protect private information are increasing, making traditional PCI look like a piece of cake compared to sophisticated and intensive regulations like the EU's General Data Protection Regulations (GDPR) and similar laws driven by innovations including connected things (IoT) and more.
Contact centers, which are increasingly being integrated with multiple channels for access to information (web, self-service, mobile apps, online chat, chat bots, and more) have become even richer sources of data, from call detail records, to the full recordings of every call and contact brands have with their customers.
With recent advances in automatic speech recognition voice recordings are being leveraged for training machine-learning models but are also a "double-edged sword" – evidence that an agent, for example, made an inappropriate offer to keep a subscriber from switching, for example, only to have that offer never materialize.
Given these new software-based technologies and platforms, 100 percent of interactions can be measured if they meet compliance requirements; therefore, "spot checking" is no longer acceptable. Meeting requirements helps brands and their providers avoid or even eliminate expensive fines when rules are broken.
AI is Inevitable
AI will continue to transform the contact center industry, whether companies and their BPO partners like it or not.
AI is impacting virtual agents, the traditional IVR business, agent enablement, the collection of business data and analytics on that data to drive business insight, expert agent routing, and quality compliance and assurance.
According to Gartner, by 2021, 15 percent of all customer service interactions will be completely handled by AI, an increase of 400 percent from 2017.
AI plays a critical role in empowering human agents and developing less expensive "natural conversational virtual agents" which can resolve common issues and trigger a transfer to a live human when necessary.
Contact Center Compliance is a Team Sport
Enabling better interactions, or experiences, between consumers and brands with great technology is possible today when humans and systems co-exist in meaningful ways.
The "team" today includes technology and guidance from advanced applications, including those which can sense sentiment, recognize patterns, recognize the inbound consumer's profile and make the job of live agents and their managers easier.
CustomerView is serving customers who understand the importance of collaboration, between teams in contact centers, whether they are run by the brands directly or by BPO providers, leveraging technology.
And while we are seeing more and more "conversations" moving to multiple channels (including text, chat, chatbots, self-service and more), voice continues to the most widely-utilized customer service channel by consumers, with 73% of consumers calling into the call center for customer service needs, according to Forrester.
That's why we have invested in building voice recording and transcription technologies that enable compliance based on all types of conversations, including voice.
With voice recording and transcription, combined seamlessly with other text-based conversations, artificial intelligence and machine learning are being leveraged by our customers and partners for not only customer support applications, including intelligent contact center platforms and services but also to detect fraud, cyber-attacks, insurance claims processing, and more. One of our most valued features is our ability to make compliance more automated and effective and simplify audits in the process.
We are on a continued path when it comes to advanced customer engagement and experience technologies. Over the last few decades IVR and automatic call director (ACD) technologies made huge strides in improving the consistency, quality and auditability of interactions, including determining a customers' need and routing their inquiry to the right agent.
And while IVRs and ACDs are smart, they are not as smart as what we are now innovating.
Speech analytics today can sensitively detect tone, sentiment, vocabulary, pauses, and other factors, and direct conversations to trained, expert agents (and their managers) based on success rates and strengths, as well as the caller's profile and behavioral characteristics.
In a collaborative effort, the latest technologies, including those developed by CustomerView and integrated with our partners helps brands anticipate outcomes, make better decisions, and serve and satisfy consumers better.
Our technologies also help with risk management by assuring compliance with the brand's guidelines, the contact centers' guidelines, and legal regulations.
This team sport – these new collaborations – are positioned to disrupt our industry again, and in all good ways.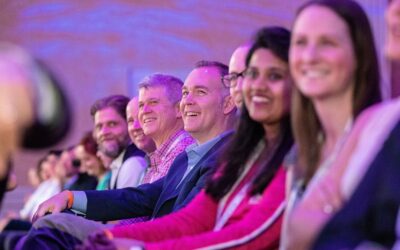 Is there a better way to start the New Year than with friends? The potential of AI and CX in contact centers, but also across the enterprise was the story we shared at this year's big event bringing together thousands of Genesys executives, sales and marketing experts, channel partners and technology ecosystem contributors including CustomerView.
read more