Cloud Contact Has Never Been More Intelligent: Bringing AI to All Interactions
As call centers become contact centers, and as contact centers become customer engagement and Customer Experience (CX) centers, our industry has moved beyond transitional into transformational strategies.
Call and contact centers used be cost centers!
Today's brand engagement and experience centers are now understood as a mission critical part of every company's success, to attract, serve and retain consumers and subscribers.
Thanks to the cloud, the cost of running a global platform have been reduced dramatically (with applications that run securely on the Public Internet and on private networks that are built as overlays on the Internet using Software Defined Networking.
With those cost savings, we are seeing more and more of our customers re-investing in the applications themselves, and those are more frequently being based on the use of AI, big data and analytics.
Today, our customers are providing stellar customer experiences, driving up customer loyalty and growing more profitable revenues.
The shift to cloud makes this all possible, and yet we are still at the beginning of this "jump shift" – which is why we are so excited to be partnering with Genesys and other technology providers as we align our visions.
Our enables access to vast quantities of data, while also programmed to ensure privacy and other regulatory compliance.
Customer engagement centers generate a huge amount of data, from call detail records (CDRs), to the full recordings of every call and contact which combined with natural speech recognition and accurate voice-to-text translation are invaluable in ensuring great experiences and informing coaches and agents for continual improvement.
Our technology supports virtual agents, well beyond traditional Interactive Voice Response (IVR), assisted agents, agent routing, quality compliance and assurance through more automation, and of course business insights that can improve products, services and all interactions over time.
The AI platforms required to produce happy consumers through more realistic virtual agents and assistants to human experts supported by the same technology is here – today. This is no long a "future" – and we predict 2019 will be the breakout year.
The CustomerView team be sharing our platform and ideas around this top at today's Genesys Winter 2018 . The Winter '18 theme is Automation@Work. According to Genesys, "Using AI to enhance human qualities in the contact center. Genesys is introducing new AI and automation capabilities designed to help employees be better engaged and work smarter, not harder, with employee tools and automated systems to help employees manage more complex engagements."
For more information, please contact me at bradr@cr-x.com.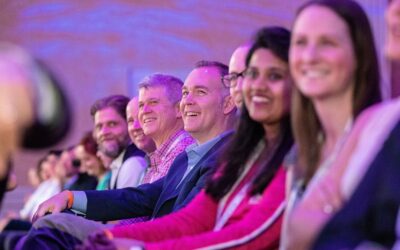 Is there a better way to start the New Year than with friends? The potential of AI and CX in contact centers, but also across the enterprise was the story we shared at this year's big event bringing together thousands of Genesys executives, sales and marketing experts, channel partners and technology ecosystem contributors including CustomerView.
read more